From the Washington Post:
A D.C.-area Catholic priest was placed on leave Tuesday after exploding at mourners waiting in a sanctuary for a funeral, reportedly telling them to "get the hell out of my church." Video shows the argument going on feet away from an open casket holding the deceased woman.
The disturbing scene last Wednesday played out on social media after mourners recorded the Rev. Michael Briese, who is in his 60s, angrily speaking with people at St. Mary's Church in Charlotte Hall. In a letter Thursday to the local newspaper, the Maryland Independent, Briese said his anger "spilled out in a torrent" after he saw a "sacred chalice" used in the Mass damaged by a funeral guest. After the blowup between Briese and mourners standing beside the casket of Agnes Hicks, dozens of people streamed out of the sanctuary with the casket into a parking lot, where police cars called by Briese were arriving, according to a video report by Fox 5-WTTG-DC.
[Return to www.spiritdaily.com]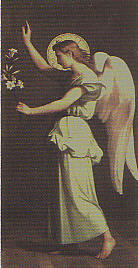 Pray always for purity and love
+