From the Tennessean:
Jesus is laying on the cross in the painting, his arms splayed wide as one of his executioners hammers a nail into his hand.
The artists who created it — selecting the caramel color of Christ's skin and the silver of the nail drawing the red pool of blood on his palm — are inmates on death row who, like Jesus, are facing their own state-sanctioned executions. Those who visit with the prisoners in Unit 2 at Riverbend Maximum Security Institution in Nashville say the new Stations of the Cross artwork helps show the humanity of men often defined solely by their crimes.
[Return to www.spiritdaily.com]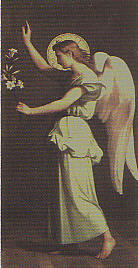 Pray always for purity and love
+