From Associated Press:
Pope Francis' favorite icon of the Madonna in Rome has gotten a face-lift.
The Vatican on Wednesday unveiled photos of the restored Salus populi Romani, the Byzantine-style painting on wood located inside the St. Mary Major Basilica. The icon, revered by Romans, will be displayed to the public Sunday when Francis celebrates a special Mass at the basilica. Francis famously slipped out of the Vatican the morning after his election as pope to pray before the icon, which features an image of Mary, draped in a blue robe, holding the infant Jesus who in turn is holding a jeweled golden book. Before and after every foreign trip, Francis goes to the basilica to pray before the icon and leaves a bouquet of white roses.
[Return to www.spiritdaily.com]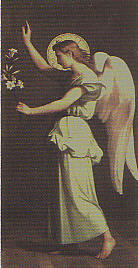 Pray always for purity and love
+++