From BBC: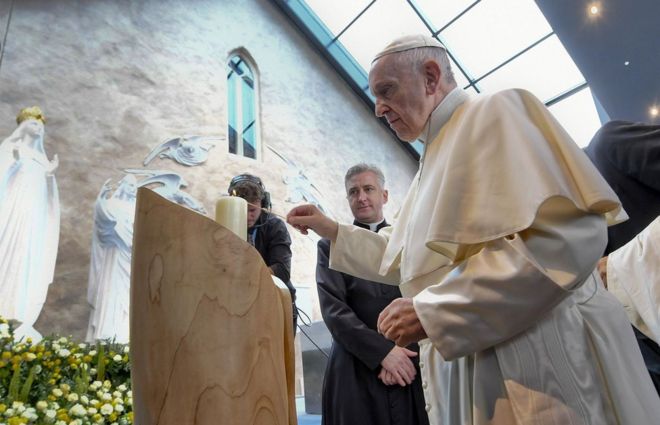 Pope Francis has begged forgiveness for clerical child sex abuse and reiterated his wish to see justice served.
The pontiff made the comments at the Marian shrine in Knock during the second day of an historic trip to the Republic of Ireland. He said no-one could fail to be moved by stories of those who "suffered abuse, were robbed of their innocence and left scarred by painful memories." It is the first papal visit to Ireland in 39 years.
From the London Guardian:
Pilgrims have queued up to see Pope Francis visit the Knock Shrine where villagers claim to have seen an apparition of the Virgin Mary and the Lamb of God nearly 140 years ago.
The pontiff was due to spend an hour at the holy site in County Mayo on Sunday morning on the second day of his historic trip to the Republic of Ireland. Around 45,000 people were expected to attend the ticketed event. The significance of the site goes back to the evening of 21 August 1879, when Knock was a small, rural village.