From America Magazine:
Pope Francis has decreed that "the Memorial of the Blessed Virgin Mary, Mother of the Church," should be inscribed in the Roman Calendar on the Monday after Pentecost and be celebrated every year in churches throughout the world.
The Congregation for Divine Worship and the Discipline of the Sacraments announced this in a decree published by the Vatican today, March 3, and signed by the congregation's prefect, Cardinal Robert Sarah, and its secretary, Archbishop Arthur Roche. The pope, who has emphasized many times the importance of Mary in the church, approved this last Thursday when he received the cardinal in a private audience. A "memorial" is a lower-ranked feast day. Celebrations of feast days in the Roman Rite of the Catholic Church are distinguished according to their importance and named either as solemnities, feasts or memorials.
[Return to www.spiritdaily.com]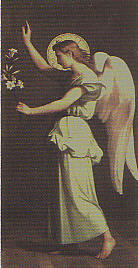 Pray always for purity and love
+++