From Vatican Radio:
(Vatican Radio) Pope Francis and U.S. President Donald Trump met in the Vatican on Wednesday, discussing issues of peace, interfaith dialogue and religious freedom, as well as the role of the American Church in education, healthcare and support for immigrants.
The American leader spent half an hour in conversation with the Pope behind closed doors in the Apostolic Palace, before meeting with Vatican Secretary of State, Cardinal Pietro Parolin, and Archbishop Paul Gallagher, the Holy See's Secretary for Relations with States or foreign minister.
From Associated Press:
Trump, midway through a grueling nine-day, maiden international journey, called upon the pontiff in a private, 30-minute meeting laden with religious symbolism and ancient protocol. The president, accompanied by his wife and several aides, arrived at the Vatican just after 8 a.m. local time. The president greeted Francis in Sala del Tronetto, the room of the little throne, on the second floor of Apostolic Palace.
Upon completing their meeting, the pope gave the president a medal featuring an olive branch, a symbol of peace, among other gifts.
From Fox News:
Pope Francis and President Trump–two of the most recognizable people in the world– met for 30 minutes in the Vatican Wednesday where the two likely discussed topics from immigration to Monday's terror attack in the U.K.
Once the two shook hands, they were led into the pope's private study and were seated across from one another. Trump told the pope it was "a very great honor." The media was led out of the room, and the two talked for about 30 minutes. They left the meeting and shook hands. Pope Francis went on to attend his Wednesday address in the Vatican and Trump took a tour of the Sistine Chapel.
From The New York Times:
From CNN:
"Thank you. I won't forget what you said," Trump told Pope Francis, before leaving the Pope's private study after a half-hour private meeting. Neither Trump nor the Pope revealed what their conversation entailed and neither the White House nor the Vatican offered any immediate clues, leaving those curious about the first meeting between the two starkly different world leaders thirsting for more.
From NBC:
The president smiled broadly beside the pontiff, who appeared subdued and stone-faced before their 30-minute private conversation. However, Francis' mood lightened considerably during their gift exchange.
[Return to www.spiritdaily.com]
[Upcoming retreat in New Jersey, June 24, 2017. Sign up here]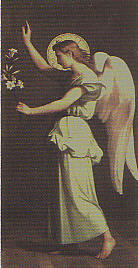 Pray always for purity and love
+++