From the Manila Bulletin:
Cebu City – Cebu Archdiocesan Media Liaison Officer Monsignor Joseph Tan on Wednesday called on the public "not to be alarmed" following the posting of a video on social media over the weekend claiming that a "satanic" rosary was found at the Sto. Tomas de Villanueva Parish in Barangay Pardo in this city.
A similar rosary was featured by Philippe de Guzman, Diocese of Novaliches Office of Exorcism (Libera Nox) Assistant Case Officer, in an August 7 episode of "Hello Father 911" of the diocese's Radio Veritas.
De Guzman said the rosaries are often made of plastic and identified the symbols as parts of a pentagram and are an "insignia of the Illuminati."
[Return to www.spiritdaily.com]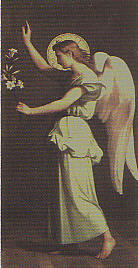 Pray always for purity and love
+++