From the Washington Examiner:
The Democratic congressman who presided over a recent contentious debate on the House floor revealed in a Thursday interview with Martha MacCallum that he agreed with the House chaplain's prayer to exorcise the congressional chamber. Rep. Emanuel Cleaver, 74, of Missouri recalled the partisan bickering that led him to abandon the chair in a historic display of frustration Tuesday. Shouting had erupted on the floor as representatives argued over a resolution to condemn President Trump's tweets that urged "'Progressive' Democratic Congresswomen" to "go back and help fix the totally broken and crime infested places from which they came."
"[House Chaplain] Father Patrick and I sat together earlier the day of all of the chaos and confusion during the resolution concerning President Trump," Cleaver remembered. "And he said to me — leaned over and said, 'You know, I feel a presence in here, an evil presence.' He said it's not a Democrat or a Republican. He said there's something else going on here. He said, 'I'm going to have to pray tomorrow to ask God to cleanse this place.'"
From Fox News: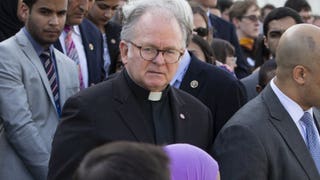 After several chaotic and historic days on Capitol Hill, the chaplain of the House of Representatives opened the legislative day Thursday with a prayer to cast out "all spirits of darkness from this chamber."
"This has been a difficult and contentious week in which darker spirits seem to have been at play in the people's House," the Reverend Pat Conroy began. Then, in a dramatic moment, Conroy raised both hands and said, "In Your most holy name, I cast out all spirits of darkness from this chamber. Spirits not from You. I cast out the spirit of discouragement which deadens the hope of those who are of goodwill.
From CNN:
At times, Conroy's prayer sounded strikingly similar to the Catholic Church's old Rite of Exorcism, in which a priest cast "unclean spirits" from a possessed person. (The rite was revised in 1999.)
In a brief interview afterward, Conroy said the echo was intentional. But he added that his prayer, which he wrote himself, was more inspired by traditional blessings for homes or other buildings. The idea for the prayer came to him, the chaplain said, after Tuesday's 
contentious House vote
to condemn as racist President Donald Trump's tweets telling four Democrat congresswomen to "go back" to their home countries. Three were born in the United States, the fourth is a naturalized citizen. "I was on the House floor on Tuesday," Conroy told CNN, "and to me, it felt different than other days. It felt like there was something going on beyond just political disagreement. The energy of the House was very off. No one was relishing what was happening."