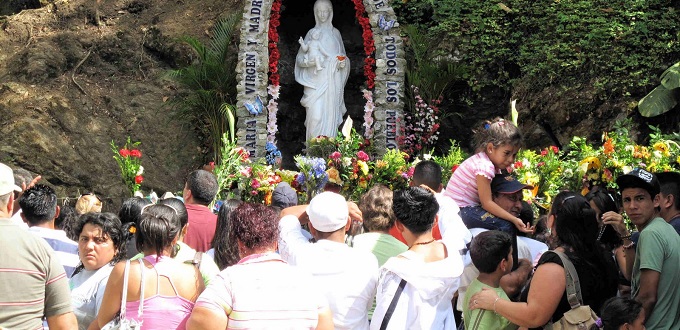 One of the best documented and most astonishing medical miracles in recent times happened to a doctor himself. The doctor, Vinicio Arrieta, a Harvard-educated man who was director of the School of Medicine at the University of Zulia, experienced his phenomenon at a site in Venezuela that stands as one of the few officially approved by the Church since Fatima.
The place was Betania — which means "Bethany" — and it had been declared "sacred ground" by Bishop Pio Bello Ricardo in 1987 after consultation with the Vatican. By that year there were at least 500 to 1,000 people who'd received medically significant cures at Betania, according to medical authorities — none more dramatic than what happened to Dr. Arrieta.
In the next couple of weeks we'll be looking at a number of miraculous cures. We haven't kept up with him in recent years but the last time he gave his testimony it was best expressed in his own words. At the time he was suffering from cancer of the prostate that had spread to the lumbar column of his spine. His antigen level had been 100 where the normal value is 0 to 10. He had received two treatments of chemotherapy. "There is no possibility of a misdiagnosis," he had said. "They had given me two years to live."
But heaven — and the Blessed Mother — had other plans. Dr. Arrieta had spent all night praying with his wife and a crowd of about 5,000 on the anniversary of Fatima. At five he awoke and begged God to let him live for his two children. He announced that he was casting off his pride and pretentiousness.
"We got up at six in the morning and we broke our fast, and we sang a little song to the Virgin," said Dr. Arrieta. "At eight in the morning the solar phenomena began in which the sun lost its light — it was illuminated but it lost its light. The center part became green. It began to spin on the inside like there was a circle on the inside and then it began to come nearer to us. I began to feel an infusion, a heat within my body. I grabbed my wife and I began to scream. They thought I went crazy. I began to scream, 'I'm being cured! I'm being cured! I'm being cured!' I felt that this infusion arrived at my spinal column and to my prostate. I wasn't even looking at the clock but after this the Virgin appeared above the trees and toward the heavens as a real human being. That is to say that she had hair which was moved by the breeze. She had a face, an extremely beautiful face, a beauty that can not be described!
"The only thing that can be said is that it is like the expression of love, of the glory of God. Her eyes were blue. Her nose was very sculpted. And in her face was a candor, a love, a kindness. And in her right arm she had the Child Jesus, as if to hand Him over.
"In the other arm a rosary hung down to her knees. The rosary was completely illuminated. Five hundred other people were seeing the Virgin at that moment. I thought that I was cured. Five days later, the prostatic specific antigen was not detectable."
One of the specialists, Dr. Vinicio Paz, who made the original diagnosis, said there was "no scientific explanation" for what occurred. They did a biopsy which was also now negative. The cancer had simply vanished.
[resources: The Bridge To Heaven andMichael Brown online mini-retreat, September]