---
Call it summer oddities.
A couple things.
Have you ever thought about the associations between spirits and certain animals?
There's the owl. At times, it has been seen by various cultures as a symbol or manifestation of evil, perhaps due to its eerie human-like eyes (so wise), its nocturnal presence, its uncanny night-time hoot, and the way it can turn its head (á la Linda Blair). Of course, although there are phenomena associated with it in certain esoteric circles, it is a precious creature in need of human protection.
There are snakes. Need much be said of these? And crows, ravens — associated with witches. There is the link in Scripture between Satan and a lion. There is the black cat.
But perhaps none is as eerie and consistently portentous as the bat, alligated not only to witches but the classic vampire, some species looking precisely like an actual evil spirit, as if the demonic transmogrified into physical form. Coincidence it is how bats are also now inextricably linked with viruses, a good number of the most hazardous originating with these flying rodents in their dark, guana-slimed caves, many located in deep African voodoo territory or China — land of the dragon. Creepy, yes. Like a gargoyle.
From pulse.ng [tabloid]: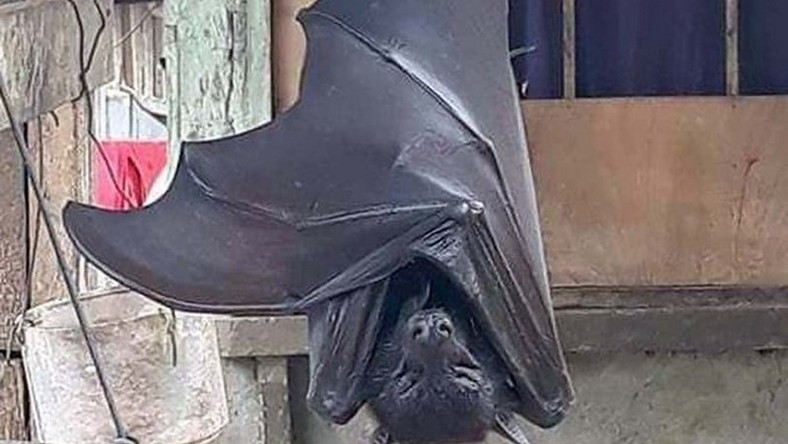 "This post [on Twitter] has had more than a quarter of a million likes and was captioned: 'Remember when I told y'all about the Philippines having human-sized bats? Yeah, this was what I was talking about."
"And although the bat pictured – thought to be a giant golden-crowned flying fox – is considered a megabat, many comments from people claiming the bat is "taller than me" are wide of the mark. The species of bat can have an impressive wingspan of up to about 5.8ft (which is very much human-sized and very much terrifying) but their bodies are estimated to be in the 1-2ft range."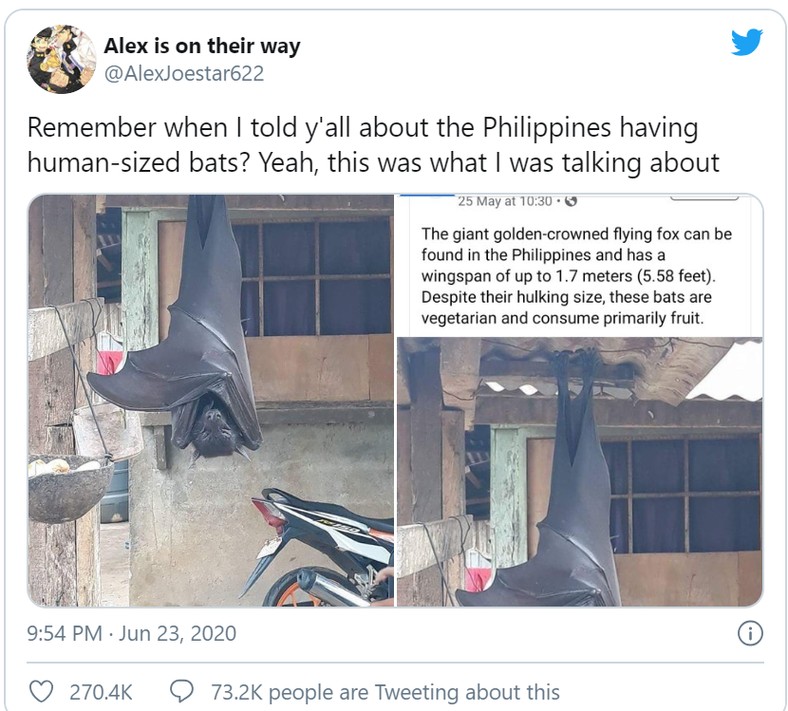 ---
There are many coincidences on this earth. A viewer notes simply: "'I can't breathe.' Masks. Ventilators. Respiratory Virus. Dust Clouds. All an attack on oxygen 5G= 666 60ghz, 600 MHz, 600000 anTuTu score."
Let us add another happenstance: in its first year of legalized abortion, Ireland recorded 6,666 of them. There are always coincidences. Not every one necessarily bears meaning. A minor one: in today's news, how sixty-eight percent of residents in one Queens neighborhood have tested positive for the antibodies. The name of the neighborhood: Corona.
---
Okay, summertime musings. Can't we all just get along. Can't we all just pray?
And mysteries. 
Unsolved, a new series on cable, has an episode on the famous JonBenét Ramsey murder case. As you recall, that was the poor little girl in Boulder, Colorado, who was gruesomely slain on Christmas night in 1996. For many years, JonBenét's beleaguered parents were prime suspects, but recent DNA and other evidence has ruled them out. It seems there was a mystery intruder (or intruders) through a basement window, and if so, no surprise: not only was this little girl constantly photographed like a high-fashion model, paraded in fashion shows and beauty pageants, and performing on stage, but it turns out that not long before her horrific murder (she was garroted), hundreds of people had traipsed through the large Ramsey residence for a holiday event there. It also was determined that there had been more than a hundred burglaries in the Ramseys' neighborhood in the months before JonBenét's murder and there were 38 registered sex offenders living within a two-mile radius of the Ramsey home.
Now, in another coincidence, comes a photograph over social media that at first blush is wildly sensationalistic — tying, of all people, Jeffrey Epstein "madam" Ghislaine Maxwell (who allegedly procured countless underage girls for the "billionaire," and who has just been arrested for her part in his horrendous sex ring) to JonBenét.
This is because a photo has surfaced — one of the last of JonBenét — that shows a woman who in profile indeed does resemble Ghislaine, next to JonBenét. The posts claim Ghislaine and Jon Benet's parents shared the same law firm. The website Snopes.com, which investigates rumors, and quickly discounts most (with the label "True" or "False"), has labeled this one — curiously enough — "Unproven."
Says Snopes: "Maxwell may bear a passing, partial resemblance to the woman in the Ramsey photograph, but that is not proof that they are in fact the same person. Maxwell, of course, is far from the only woman to have short, dark hair and an angular nose. While the person in this photograph could be just about anyone other than Maxwell, social media users did point out one interesting connection between the accused sex trafficker and the Ramsey case: They both involved attorneys from the law firm Haddon, Morgan, and Foreman."
Pray for JonBenét's father, who has suffered much and is still alive (her mother died of cancer years ago). Be careful of false accusation. Time will tell truth from supposition. Pray for folks like Ghislaine. No one can judge. But it sure is a fallen world.
---
Lastly, on that woodland photograph we carried that seemed, to some, like it was laden with supernatural images, below is a skeptical note on it all (the vast majority of dozens who wrote to us were anything but skeptical, and pointed out very intriguing visages).
But comes now a viewer named Mary Konczyk from Pahoa, Hawaii who says, "I squinted at that photo for five minutes before reading on and looking at the mark-ups of what others saw. I see only trees, branches, and leaves. The article left a huge impression on me nevertheless — I'm utterly shocked by how easily the average person can descend into foolish superstitions and irrationality. The idea that people are spooked or awed by chance arrangements of light and shadow is very troubling to me. Has science, logic, education made no impression on us? A great imagination is a God-given tool to help us arrive at truth, but to believe that the shapes in the clouds are really dragons is alarming and dangerous. Are readers seriously thinking that Mary, demons, and Confederate soldiers are manifesting in a random patch of subtropical woods? Or is it a sort of game of make-believe?"
We understand Mary's concerns.
But we remain open to the array of manifestations.
Convincing unbelievers that Jesus rose is often easiest when we can indicate the miraculous around us. One must also note that in roaming the countryside, Jesus Himself certainly seemed to see a lot of demons. But discernment is always a rule of the day. Today's Mass reading: "Jesus said to his Apostles: 'As you go, make this proclamation: 'The Kingdom of heaven is at hand.' Cure the sick, raise the dead, cleanse the lepers, drive out demons" (Matthew 10). Were it not for manifestations of the supernatural all around Him, no one would have believed He was Who He said He was.
Oh, the various viewpoints!
Said a viewer named Elizabeth Chiafair of East Quogue, NY: "As I prayed while looking at the picture to the Immaculate Heart to free us from evil I see the Mary, Jesus and Joseph as mentioned by others but I also see perfectly a terrible storm behind them, next to and all around them. I see the waves breaking and a ship sinking under the crashing waves. Only the sail of the ship is visible."