---
The ubiquitous use of cell phones and surveillance cameras has caused an explosion in reports of "miraculous" images. So has Youtube.
It isn't all bunk (though those who make skepticism their "religion" do just that: reject it all. Disbelief, they fancy, is a sign of maturity). The public at large, however, has pivoted in favor of belief in such manifestations. So have many in the media. Take this, from last spring, on Fox News:
Or this, on one of those paranormal shows (from Tuscaloosa, Alabama):
We're certainly not saying it's Jesus. Our times are steeped in paranormalities, many of which do not strike us as holy.
But they do strike one as strange.
Call it imponderabilia.
Noted Beliefnet: "The video was live-streamed by a man named Solo Dolo who was filming a storm. The visual is in a clear patch of the sky. In the original the video, the person filming can be heard saying: 'Hey, we've got a storm over here. We got no power, everything blowing over here, boxes trees.' Those who were watching the broadcast were quick to point out that it looked like the shadowy figure in the video had arms and legs. Dolo replied to one of the commenters in the post: 'You can't tell me my God ain't real!….'"
That we do know: He certainly is.
We also know we live in a time of many and sundry signs. And oh, on iPhones or regular cameras, what the sun (when not photoshopped) forms!
The Pope, in Paraguay:
A church — Basilica of Our Lady of Chiquinquirá — in Maracaibo, Venezuela (2018):
Here's another from the same church. The word is "splendiferous":
Oldsmar, Florida:
Oh well now, you decide!
Back to the clouds (Medjugorje):
This one we've had before — Artist Alfredo Lo Brutto was able to photograph a beautiful shot that looked like Jesus with His arms outstretched during a sunset in Italy.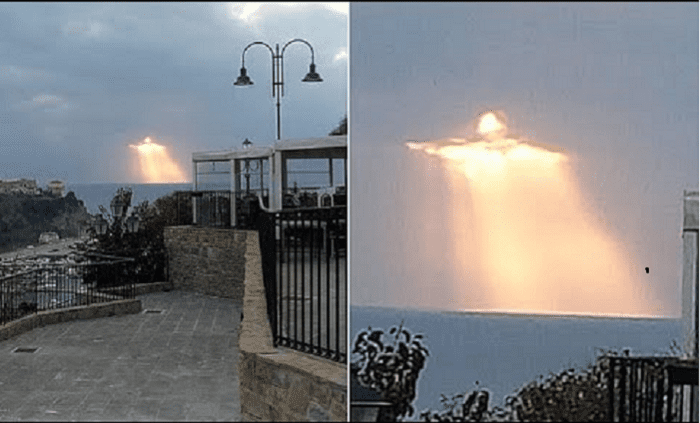 Certainly, one can see it as a simple "array of rays," and perhaps that's "all" it was.
Or is there meaning where we find it — where one sees it, whatever it is one sees?
Is there anything to these?
Rescuing a man trapped under a truck:
Angelic whimsy?
And do you remember this one?
[resources: The God of Miracles and Michael Brown retreat in Florida and North Carolina]