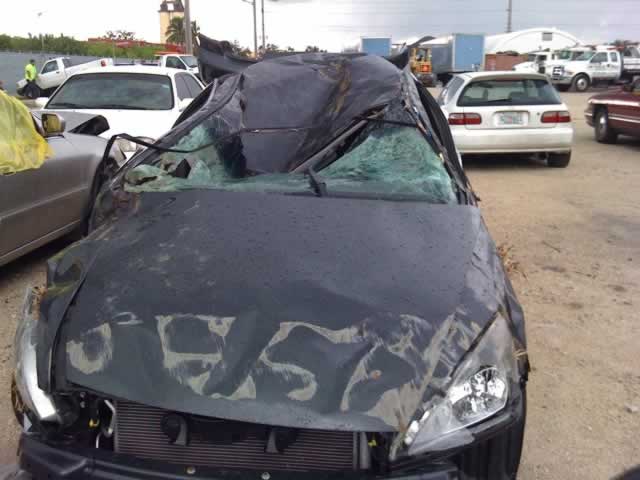 Before you know it, spring passes and then there are the dog days of summer, as time moves at a curious hour in the history of the world and specifically the history of America.
There are many troubling signs in the United States — and in those parts of the world that oppose it.
A reordering is occurring.
Is the dollar about to lose its dominance? Is American status as a superpower over? Can the culture sink lower? Celebrities are in the news, larger as idols than ever.
Yet in these uneasy, fast-moving times (expect them to speed up yet more), we can be assured of the presence of angels. Many are the cases where they intervene. Never before have there been so many accounts of unusual survival — in air crashes, in train wrecks. The automobile above (in which the driver survived without injury, sent to us by his dad) is testimony! (Do you see the Name Jesus?) Send us your accounts.
We are speaking of the real presence of angels around us and are reminded of an account given to us from a viewer named Lorraine in the Northeast:
"When my girlfriend and I were 16 years old, I was vacationing with her and her family at Bethany Beach, Delaware, and we were swimming in the ocean one early afternoon and did not realize the rip tide was very strong when suddenly we were so far out that we could only see the people on the beach and they seemed to be only about an inch tall," noted Lorraine.
"The harder we swam, the farther back the tide took us, and being young, we were both very frightened and my girlfriend was crying and I started giggling because I was also frightened and could not calm her nerves and could not relax when out of nowhere a good-looking man in his early thirties, dark hair and well-built, popped up on his small boogie board and we asked him if we could hold onto it and he could take us to shore.
"He did not speak but nodded yes. He had no problem getting us back to shore quickly as we held on to the sides of his boogie board.  When we got to the shore, my girlfriend asked her mom why she didn't get help for us  — after all, she scolded her mother, if it hadn't been for that nice man, we would surely have drowned.
"Her mom said, 'What man? There was no man near either one of you; you both were alone.' We looked around and the man had vanished."
Added a viewer named Maggie L'Hote-Dixon years ago:
"Our Blessed Mother protects us, as well. Here is one account of what happened to me and my family visiting from Edina, Minnesota. This story reminds me of when my niece Alice, her husband Kurt and my three great nephews were visiting us on the South Shore in Massachusetts. We went to Nantasket Beach around 6:00 p.m. and my great nephews Nick, Zack, and Stephen (13 – 17 years of age) went swimming into the ocean. There was fog – so thick from one end of the beach to the other. My great nephews come from Edina, Minnesota and naturally I was alarmed because of the fog. All of sudden you could not see them!
"I ran down to the water's edge and started calling their names – nothing. They are not aware of the ocean and the tide pulling them out to sea.
"I started singing the song – Ave Maris Stella from my little blue book The Pieta Prayer Book. (During a riot at Rome, a mob came to the house where St. Bridget lived; a leader talked of burning Bridget alive. She prayed to Our Lord to know if she should flee to safety. Jesus advised her to stay: 'It doesn't matter if they plot they death. My power will break the malice of thy enemies; if mine crucified Me, it is because I permitted it.' Our Blessed Mother added: 'sing as a group the Ave Maris Stella and I'll guard you from every danger.' It goes like this:
"'Hail thou star of ocean/ Portal of the sky,/Ever virgin Mother/Of the Lord Most High./ 
O! by Gabriel's Ave,/Uttered long ago,/Eva's name reversing,/Established peace below./ 
Break the captives' fetters,/Light on blindness pour,/All our ills expelling,/Every bliss implore./
Show theyself a Mother,/Offer Him our signs,/Who for us incarnate/Did not thee despise.'
"All of a sudden, there was an opening in the sky shaped like a domed church window and there were the three boys. My niece, Alice, yelled to them to come in. So, this has become my prayer when danger is lurking around me.
"Just in that one spot was the opening where the boys where.
"They swam into shore.  The church window disappeared but the fog from one end of the beach to the other remained the same! Our Blessed Mother intervened and God does truly protect us all.
"We may not remember at every moment that He is watching us and protecting us, but He is!"
[resources: Michael Brown online retreat: the supernatural around us, May 22]
[send accounts to: [email protected]]