---
While conservative Christians are enjoying very friendly and protective actions, of late, in the U.S. government — a key reason practicing Catholics voted for the current administration, which formed an alliance with Christian conservatives — the question is what will occur when there is a change in that leadership.
For in politics, as in physics, there is often an "equal and opposite" reaction, and the pendulum, currently pinned to the side favoring believers, can quickly and even violently swing back in the opposite direction.
If that happens, the watchword is "persecution." Those who rabidly dislike the current president — and their legions, as well as their truculence  — will lump conservative Christians with him because of the alliance. There will be retribution. Revenge will likely blow in our direction.
A long-forecast persecution, put off in the last election — granting a most welcome reprieve — may not, in short, last for very long.
As Father Joseph M. Esper of Michigan writes (in Preparing for the Coming Persecution, which was penned before the last election):
"Because of the sinfulness of humanity, the world is already experiencing a severe series of chastisements, and the Church herself — due in part to the loss of faith and sinfulness of many of her members — is about to undergo a time of trial and testing. This, however, will be followed by a great victory — brought about through the Power of Jesus and the intervention of the Blessed Virgin Mary.
"Those who are willing to read or consider the 'signs of the times' should begin preparing spiritually and psychologically for the very real possibility of a religious persecution in the near future."
Such persecution has already manifested and for quite some time in the way of the hyper-humanistic media, the rise of atheism, the proliferation of "nones" (no religion) and satanism (opposing public placement of anything related to God).
Other manifestations of incipient persecution can include desecration of statues (constantly in the news), governmental insistence that religious institutions accept homosexuality (or risk the charge of "hate crime"), censorship by social media (Facebook, Google, and others do this in our own time), to name a few trends.
"A tsunami of intolerance is rushing toward the Church in the United States — but most American Catholics today are blissfully unaware and completely unprepared," writes Father Esper, quoting various supposed seers. "We've seen images of Christians in the Middle East facing death by beheading at the hands of Islamic militants, and have heard of churches being destroyed and of terrorized refugees fleeing their homes — but the crisis is far greater than most of us realize.
"At least 100,000 Christians are martyred for their faith every year (a rate of 273 a day) — and that doesn't include those facing torture, imprisonment, exile, discrimination, or other forms of persecution."
Already, leaders in nations such as Nicaragua, Mexico, and Venezuela — heavily Catholic — have seen or heard shocking attacks on Catholics clergy, including violence aimed at bishops.
Perhaps none, however, has reached the level of the Philippines, where the president, Rodrigo Duterte — a former Catholic — at a business policy event in the city of Malacañang — asked: "Are there any bishops here? I want to kick your a– and the priests."  "I'll tell you, the most hypocritical institution in the Philippines is the Catholic Church," he added (according to the Manila Bulletin). "I was a former Roman Catholic Church attendant. We studied in Ateneo [a Catholic university], and we were molested, all of us," he said, without naming names.
The president also took issue with the feasts of Catholic saints, telling the audience: "Yours is San Isidro. Your saint. And who is this sh-t? You know, they were nomadic tribes at that time. Nomadic. Who is this guy San Isidro that every town fiesta, we kill our cows, carabaos…just to spend because it is the fiesta of San Isidro?"
Earlier, he called the God of the Bible "stupid," along with another epithet.
The persecution will be given further justification — a lot of momentum — by the Church's sexual abuse crisis. Bishops and priests are certainly not looked upon, by many, in the secular world, with sympathy because of it.  
"While we American Catholics more or less sympathize with our suffering brothers and sisters throughout the world," says Esper, "we usually don't give them too much thought — and we certainly don't imagine that we ourselves may soon begin sharing their fate.
"However, there are ever-more numerous and ominous signs that elements of a religious persecution are coming to the United States, and that more than before, the Church of America will be confronted by a hostile government and society, with individual Catholics forced to prove their loyalty to Jesus Christ."
[resources: Preparing for the Coming Persecution and Michael Brown retreats: Cincinnati and Connecticut]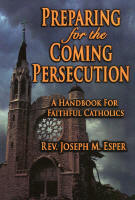 [Said a prophecy from the 17th century: "The devil will work to persecute the ministers of the Lord in every way, working with baneful cunning to destroy the spirit of their vocation and corrupting many. Those who will thus scandalize the Christian flock will bring upon all priests the hatred of bad Christians and the enemies of the One, Holy, Roman Catholic, and Apostolic Church. This apparent triumph of Satan will cause enormous suffering to the good pastors of the Church…and to the Supreme Pastor and Vicar of Christ on earth who, a prisoner in the Vatican, will shed secret and bitter tears in the presence of God Our Lord, asking for light, sanctity, and perfection for all the clergy of the world, to whom he is King and Father."]