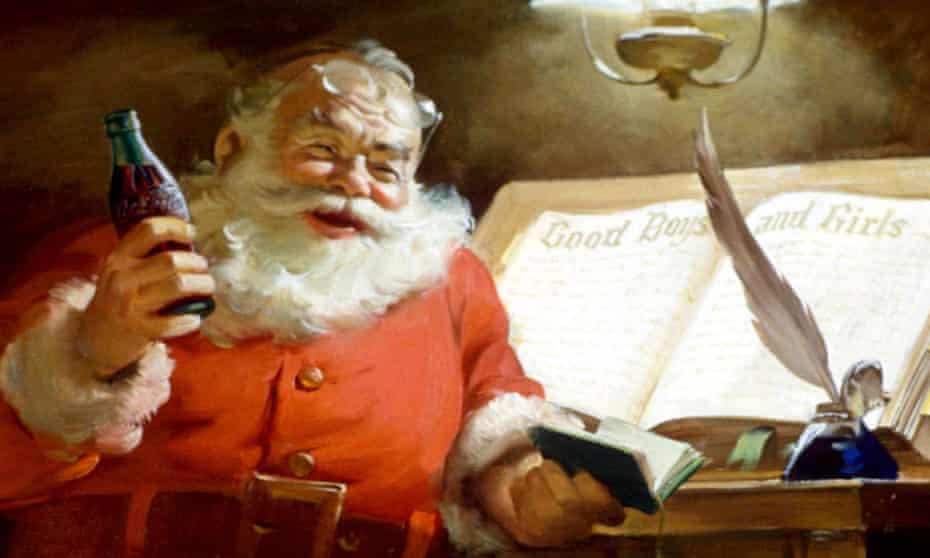 Yes, Virginia (and everyone else), there is a Santa, despite even what an Italian bishop may say.
Oh, admittedly, Mr. Claus may be fictive.
But he lives in a long-gone place called Bedford Falls in the twilight of a quicksilver dimension.
Let's hover over this, the main point: Bedford Falls.
For as stated, we'll never get back to it. We'll never quite get back to that place or feeling again.
We'll never again see that red-clad superelf with Coke in hand and the purity of snow in the same way and the silence of a gentle night and merry gentlemen and glistening trees of winter in the way we once did — fireplace stoked, stockings hung on the metaphoric chimney, comfort of the quilt — because we in the West have lost the true "magic" of Christmas known as Christianity.
While everyone yearns for the feelings of those good old days, those (relatively) innocent old days, there is the void left when a society turns from more than ninety percent Christian, as it was in the heartfelt bygone days,  in the 1940s, when Jimmy Stewart played downtrodden banker (It's a Wonderful Life), to the sterile coldness of a North America, Australia, or Europe where Christians are suddenly — with stunning speed, Omicron-like — finding themselves in the minority.
No place where the beliefs America now holds can possibly recapture the hiemel glow of that yuletide of yesteryear.
So if you're feeling empty this Christmas (and tremendous numbers are), it's not just covid exhaustion. It's the fruit of a populace that is now only sixty-three percent Christian and prays less than anyone can remember. It's the fruit of those who lack love in their hearts as they represent themselves as Christians. It's unchecked secularism. It's because too many of us have been indifferent.
Remember the words of Saint Catherine of Siena: "Nothing great is ever achieved without enduring much."
Thomas Merton: "I will not fear, for you are ever with me, and you will never leave me to face my perils alone."
Yes, those who have held true to the Catholic faith still find that joy. They still find the silent night. They — we — always will. They still locate that place in Upstate New York (or wherever one finds peace) and they still locate the Manger.
In any circumstance in any condition in any country in any time, we can reach back for Bedford. We can be there with Mary of the Manger.
It's anything but hopeless.
Nothing is hopeless with Mary.
Nothing is hopeless with Joseph. Joseph!
Nothing is without hope when when we follow the star to Bethlehem.
Bethlehem is where we aim (not so much Bedford Falls). Prayer is more powerful than a word shouted in anger or a bumper sticker that lacks charity.
When one wonders at the Christians who have flocked to political edges, one has to understand it in this context — in the context of Bedford Falls, in the yearning-for yesteryears. They know — we know — that it's a "last hurrah": that soon voting and worship and spouting Christian slogans and sticking bumper-stickers will be drowned out by secularists no matter how many rant against them, and that Christians, unless trends reverse (and they can reverse; miracles are there for the taking; angels are there, as in Bedford, for the asking), will become a susceptible minority, susceptible to persecution.
–MHB