---
---
It is a sign, is it not — does it not have to be? — that California is constantly fraught with fire, in some cases consumed by it, from south to north, from the cultural bella figura of Malibu — home to the actors, the producers, the toniest of Tony winners — to (a short while back) Oprah's hometown of Santa Barbara: the focus now on the enclave just north of Los Angeles, where the richest of the most famous reside on an American riviera, and back north even a town called with greatest irony Paradise. The flames may be fed by what they are calling "devil winds." Call it many things! But mainly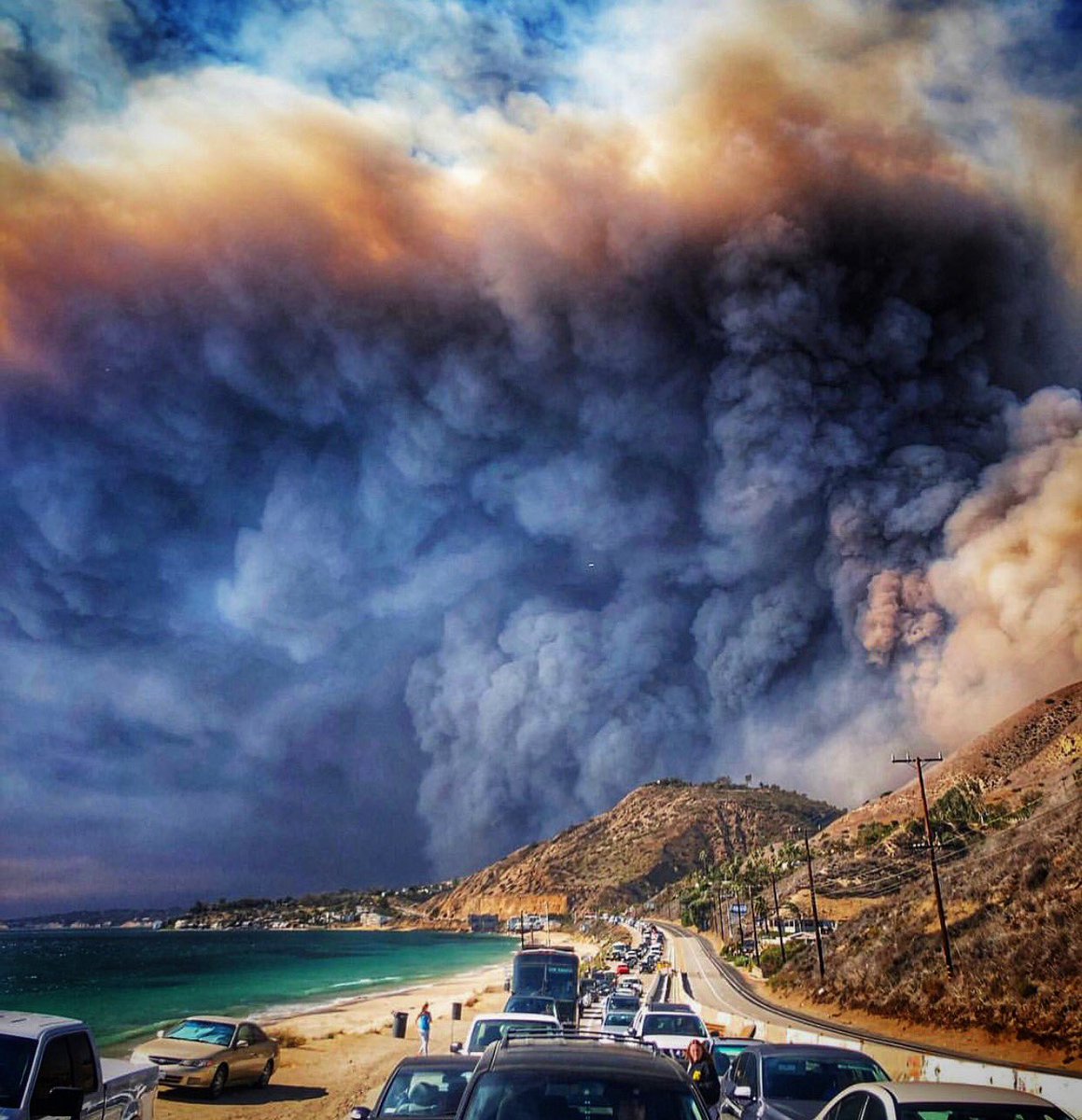 name it a time for prayer and yes an augur: so many of those in our day. As it says in Fear of Fire , "On the surface there would be flames. In a spiritual or physical or in both ways, it would be an incendiary time, whether from the earth or sky or both. Earth, sky, fire." The fire roars above Thousand Oaks — at the same time a gunman slays twelve in a nightclub; fires upon them.  Meanwhile — south again — flames destroy all props in one studio lot, except the one [top] of a church. State officials put the total number of people forced from their homes at about
250,000. Evacuation orders included the entire city of Malibu, which is home to 13,000, among them some of Hollywood's biggest stars. It is the notion of sudden acceleration, of something that consumes. It reminds one of how, when asked about the future (by a Capuchin named Father Joseph Pius, who withheld certain of the famous saint's prophecies: "Best that they not be disclosed lest they prove too unsettling"), Padre Pio, in one prediction that was divulged, replied, "Can't you see that the world is catching on fire?"
[Fear of Fire available here or  on Kindle]
From the Los Angeles Times:
As it roared out of the hills above Thousand Oaks and jumped the 101 Freeway, the Woolsey fire began a relentless march to the sea. Between the raging front of flames and the water was Malibu. People flooded onto Pacific Coast Highway — a narrow, winding road that becomes easily jammed with traffic on a normal day. Officials struggled to manage the gridlock, reversing the direction of the northbound lanes to allow people to flee south away from the fire. Cars inched along, slowed even more by several traffic signals that went dark because of power outages.
Not a single resident of Paradise can be seen anywhere in town after most of them fled the burning Northern California community that may be lost forever. Abandoned, charred vehicles cluttered the main thoroughfare, evidence of the panicked evacuation a day earlier.
Most of its buildings are in ruin. Entire neighborhoods are leveled. The business district is destroyed. In a single day, this Sierra Nevada foothill town of 27,000 founded in the 1800s was largely incinerated by flames that moved so fast there was nothing firefighters could do. Only a day after it began, the blaze that started outside the hilly town of Paradise had grown on Friday to nearly 140 square miles (360 square kilometers) and destroyed more than 6,700 structures, almost all of them homes, making it California's most destructive wildfire since record-keeping began.
From NBC Los Angeles:
As night fell Friday, the Los Angeles County
Coroner's office said it was investigating two deaths possibly related to the 35,000-acre Woolsey Fire that's been burning a destructive path across two counties since Thursday.
Details weren't immediately known as the fire consumed untold numbers of homes and forced evacuations as it cut a path from Simi Valley to the sea. The Woolsey Fire erupted Thursday afternoon in Ventura County. It raced into Los Angeles County, chewed its way through brush and into neighborhoods of Westlake Village and Malibu.