---
Author Michael H. Brown will hold a day of talks, discussions, and prayers February 3, 2018, at the Doubletree By Hilton, 116 San Marco Ave, St. Augustine,  in the historic district of St. Augustine, Florida, 9 to 4 p.m. — a new kind of retreat that will take place across the street from the nation's oldest Marian shrine: Our Lady of La Leche.
You don't want to miss this one — coming on the heels, as it does, of his new book of prophecy, Where the Cross Stands, which begins right at this locale before moving across the entire nation — discussing America's hidden past and future.
There will thus be a special focus on the United States at this turbulent time in its history and emphasis on Our Lady's role in it all. At the end of the day, we hope to tour the shrine.
But this will be no history lecture. At this time of such upheaval, and such personal attack, how do we most effectively pray? What does the Blessed Mother mean in a recent message that mentions the "rule" of evil that has arrived?
How do we find peace — and balance?
How do we rid ourselves of darkness and over-attachments and imbalances?
Most importantly: what about near-death experiences? What do we know about life after death? What's it like? How do we prepare for it?
And is it necessary to prepare (in many ways) for times ahead?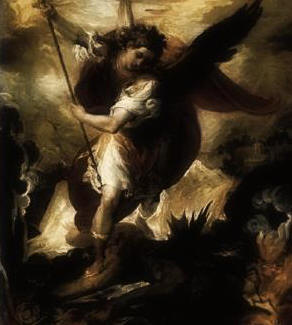 Future events. The supernatural reality around us. Cleansing ourselves and our surroundings! We will pray to "illuminate" our consciences — pray to view ourselves as God does. There will also be a focus on cleansing our households, along with an extensive question-and-answer period after the presentation on prophecy. There will be this key set of questions: What is your mission in life? What do those who have "died" and come back say? What have seers glimpsed of Heaven, Hell, and Purgatory? What's in store for our country?
We'll discuss deceased loved ones. We'll discuss "signs" from the other side. We'll discuss encounters with angels (and demons). We'll discuss the prophetic import of shrines like Kibeho and Our Lady of Good Help in Wisconsin. And much more. Is there a coming illumination? What about "secrets"? And chastisements? How have world events in the past decade related to those "old" prophecies — the ones that are yet to be fulfilled?
This is the site of the first documented liturgy in the United States; the first administering of Confirmation; America's first priestly ordinations; and the oldest continuous community in the country. 
A place with an amazing history, showing how the Virgin was instrumental in the very founding of America. We will discuss the prophetic aspects as well as prophecies from various credible sources and how they may relate to the U.S.! God willing, and weather permitting, we'll tour the shrine. We located here after encouragement from the bishop to promote the shrine. There is a daily Mass at noon at the shrine and will be Saturday, a stone's throw from the hotel.
Don't miss this one. There is limited seating. St. Augustine is a special, anointed place. The hotel is just a short distance from the famous downtown replete with cathedral, the oldest house in America, the oldest wooden school, shops taking the visitor back to yesteryear, restaurants, and bed-and-breakfasts, including a famous one named for Saint Francis.
What happened here? What is happening now in the U.S.? What can we expect?
And most critically: where do we all stand spiritually — in the here and now and also the afterlife? Admission can be purchased on-line with button below; or by calling 386-446-8139 between 9 a.m. and 5 p.m. EST weekdays or via mail by check to: Spirit Daily, 11 Walter Place, Palm Coast, Florida, 32164. Please note that there are no tickets issued; attendees are on a list at door. If there is room, there will be door admittance. Priests, nuns, and deacons are free. Reduced room rates are available by calling (904) 825-1923 (Maggie) and mentioning group rate for Michael Brown retreat. Mass will be available at noon at the shrine for those interested.
Admission $30