Many are the indications.
If the wildfire season for now is behind us, and if we're still three glorious months away from (capitalize the words this year) Hurricane Season, we see all the "hints" that are so much greater than the "hints"  of just a few years past.
There is a significant quake near Fukushima — no great disaster, even though magnitude-7.3, and accompanied by no tsunami warning — but a recurrence there last week cause for attention.
There is drought. Many don't realize that a period of very unusual dryness has been ongoing in Western states for several years now, alerting climatologists to the possibility of an incipient "mega-drought" which by definition could last decades or even centuries (a super and virtually permanent Dust Bowl, which would alter the landscape).
There are melting glaciers — causing cascades of water — and cracks in massive ice floes at both poles. It isn't something that happens every year or even every century. One "hotspot" is now the Himalayas — where there are more snow and ice than anywhere but the poles. When telephone poles collapse and roads crater or buckle in northwestern Canada and Alaska due to a thaw in the permafrost, when even the ancestral food cellars of Eskimos are melting (they've been there for generations — hence, the moniker), this is neither "fake" news nor imagination.
Signs of the times: how many deny and defy them.
While that goes on in one place, at another — at the Acropolis — there is snow. That's Athens!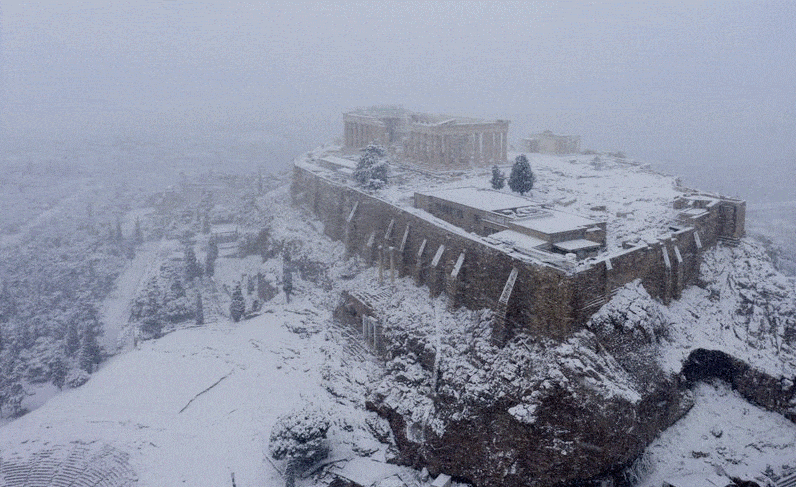 "Heavy snowfall blanketed the Acropolis and other ancient monuments in Athens, caused power cuts, and halted COVID-19 vaccinations in the Greek capital on Tuesday as the weather brought many services across the country to a standstill," says Associated Press. "While western Europe got some respite from winter weather, temperatures plunged in the southeast of the continent and storms also battered Turkey."
A farmer on the island of Crete was found dead in a snow-covered area near his sheepfold.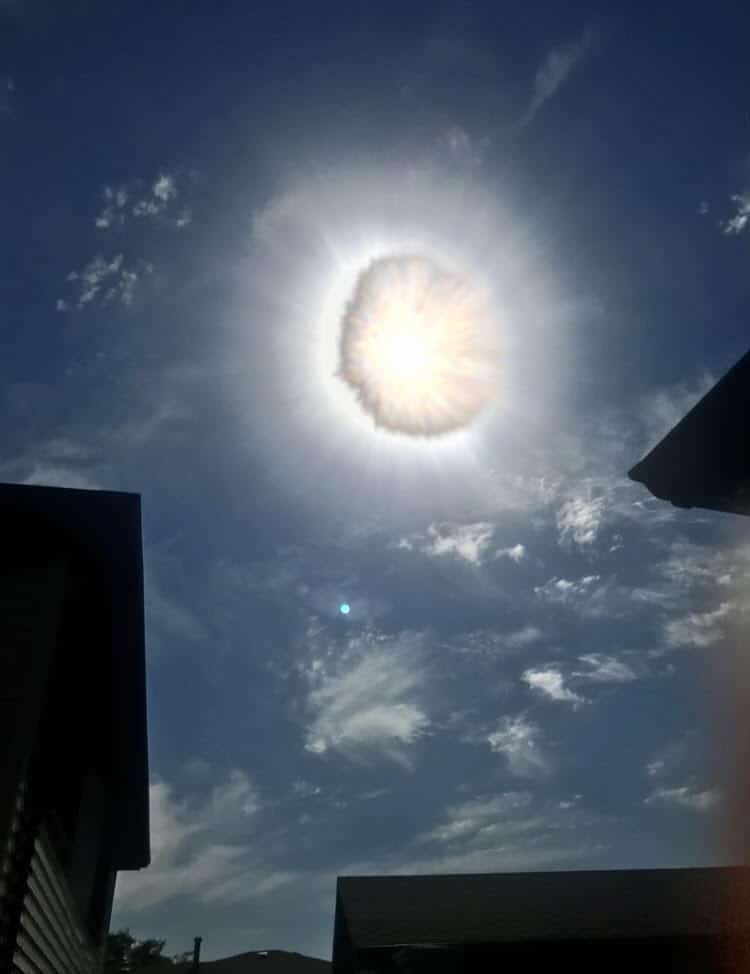 Covid is an obvious sign yet rarely mentioned as such by normally prophetic folks like Evangelicals. Confusion and chaos are also signs of the times. Monuments of Saint Serra and Columbus trashed. Statues of Jesus and Mary are desecrated. Windows at the U.S. Capitol smashed, with threats against senators and congressmen. Civil discord, at both ends of the sociopolitical spectrum, is higher than since the war between the states.
Put it all together, and now mix into it even a winter storm that may be (or so say the frequently energized broadcasters at the Weather Channel) the most unusual such storm in a generation, causing alerts covering two hundred million Americans. Peculiar, yes: to see the mercury dip to single digits or even zero in Texas. A winter that started out unusually warm and snowless is now anything but.
From the Houston Chronicle:
After below-freezing temperatures knocked out power to their Houston apartment, Jael Sanchez and Randy Castillo began to feel like they were living at the end of the world. With no heat and no working stove, the couple and their 11-year-old daughter hunkered down in a makeshift bedroom fort made from nearly a dozen blankets, and did their best to heat cans of soup over an outdoor grill in the snow. One neighbor lit a trash fire; another used a car to ram open the electronic gates that typically control who can enter and exit the complex.
"Eight hours into Houston not having power, and we were already having an apocalypse here," Castillo joked shortly before midnight on Tuesday. Still, the couple emphasized, they were lucky to have camping gear like headlamps and portable cellphone chargers to help them get through one of the region's coldest nights on record. Many others in Houston – and across the central United States – found themselves literally in the dark, cut off from the outside world as they hunkered down in poorly-insulated homes that weren't designed for such extreme weather.
Look at the hole in permafrost in the Russian Arctic. [Story here]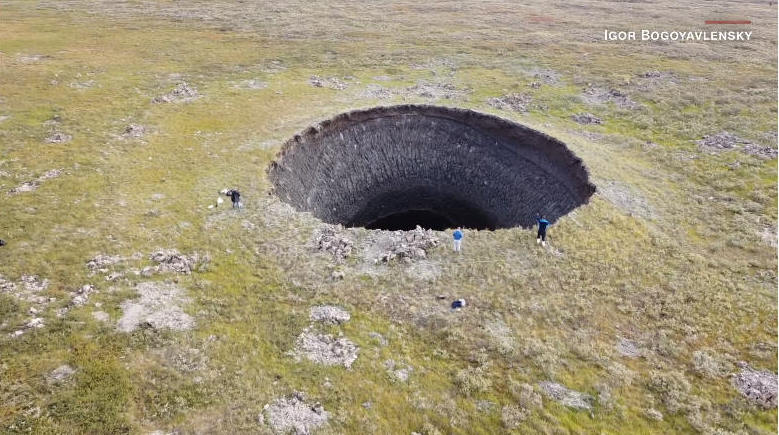 From Associated Press:
A winter storm that left millions without power in record-breaking cold weather claimed more lives Tuesday, including three people found dead after a tornado hit a seaside town in North Carolina and four family members who perished in a Houston-area house fire while using a fireplace to stay warm.
The storm that overwhelmed power grids and immobilized the Southern Plains carried heavy snow and freezing rain into New England and the Deep South and left behind painfully low temperatures. Wind-chill warnings extended from Canada into Mexico.
In all, at least 15 deaths were reported. Other causes included car crashes and carbon monoxide poisoning. The weather also threatened to affect the nation's COVID-19 vaccination effort. President Joe Biden's administration said delays in vaccine shipments and deliveries were likely.
From Newsmax:
The power grid operator for the state of Texas has declared its highest possible state of emergency after a winter storm caused millions to lose power as temperatures remain at record lows.
"We are experiencing record-breaking electric demand due to the extreme cold temperatures that have gripped Texas," said Bill Magness, president and chief executive of the Electric Reliability Council of Texas, or ERCOT, in a statement.
"At the same time, we are dealing with higher-than-normal generation outages due to frozen wind turbines and limited natural gas supplies available to generating units," he continued. "We are asking Texans to take some simple, safe steps to lower their energy use during this time."
That's called a swerve or gyration.
Or, a "sign."
We'll see how long we can still call them signs, how long we will be able to think of them as "warnings," as things like covid, even if now on the wane, straddle the border between warning and outright chastisement.
[resources: Tower of Light]