---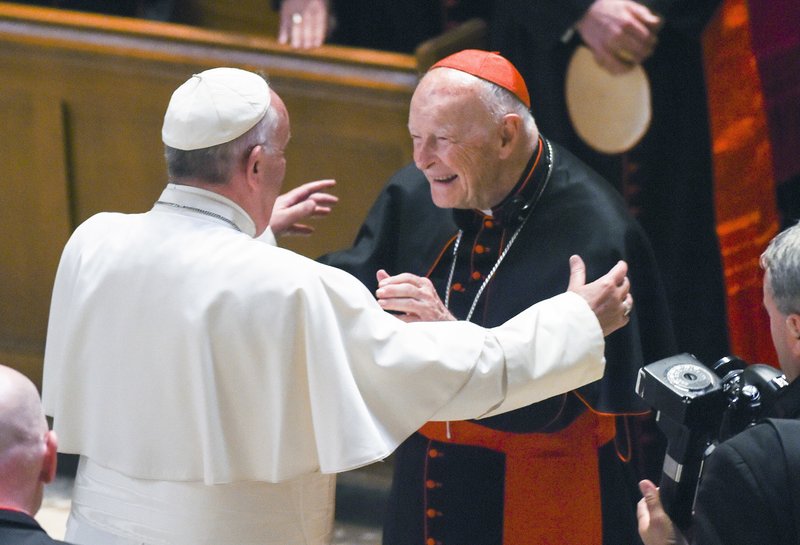 Have peace — even if it seems, some days, as if the Catholic Church is crumbling.
It may look that way — and may look like that in days ahead — but it is a rock.
In those days ahead will be more chilling news about a crisis — homosexual clergy abuse — that had seemed plenty bad enough, and near its peak, back sixteen years ago.
Not quite. In the news of late — not just priests, but the hierarchy: Cardinal McCarrick (photo, top) in the U.S., the bishop of Honduras, and an Indian bishop, joining Cardinal Pell (currently on trial) and a jailed archbishop (convicted of covering for priests) in Australia. One can't overstate how shocking the abuse crisis has turned out to be (the grand jury report from Pennsylvania). If guilty (one victim was eleven at the time), Cardinal McCarrick needs to be not just an uncardinal but an unarchbishop and unpriest, and should thank the Lord he is not in jail.
For some perspective: while the number of accused priests — 6,700 in America alone, during the past fifty years — seems high (anything above "zero" is astronomical, when we think of those consecrated hands — it amounts to just over six percent of Catholic clergy, no higher (and probably somewhat lower) than many professions.
Other institutions and denominations are being shaken: mega-churches losing entire administrations, and the "me-too" movement that stretched from Hollywood to New York to Everywhere America.
But that's no excuse. And it cannot be ignored that while other institutions and other nations have their scandals, the clergy abuse scandals in the U.S. (and now toss in Chile, with Ireland) are largely — overwhelmingly — homosexual.
Let's get to the root of it: the devil infested a shocking number of priests, some of whom even used sacramentals — Holy Water, altars, the confessional, crosses — in their sexual misdeeds. This is outright satanism.
In Iowa, the diocese ordered exorcism of a house where a retired priest had a vast collection of child pornography — including violent images. This priest even mentioned that he was descending "to Satan" and fantasized about harming kids in the neighborhood, as well as killing a child's dog.
Only Satan can twist a mind to that degree. Pride is rampant. So let's do a massive Churchwide exorcism — instead of approaching it bureaucratically (which obviously does not work). Let's have cenacles around North America — meetings at which prayer is used as our weapon. Ironic it is how many bishops and priests have discouraged devotions and attendance at apparitions sites. In some cases it is prudence; in others perhaps the evil one doesn't much take to the Virgin Mary.
In still other cases, priests and bishops simply do not believe, period. They couldn't believe in Christ — and do what so many did.
Note how the most arid dioceses are ones with the most homosexuality.
Our clergy is far too gay — and tragically, gays implanted in dioceses, rectories, and seminaries have ruined untold heterosexual vocations — dissuading them.
It has become fair to ask: are entrenched homosexuals responsible for the searing vocations crisis?
What a tragedy — and how galling — indeed. And yet: tiring to read about.
Our bishops now will and must be held to account, and not just for this crisis but the general direction of a Church that has become so bureaucratic Peter and Paul and Timothy and John would never recognize it.
How would Jesus see it?
While gays complain that Catholicism disses them, their infiltration of the clergy has caused vastly more harm to the Church than anyone could conceivably claim the Church has done to them (in fact, the Church has never harmed them in any fashion).
Anyway, it is not hyperbole to state the scandals 2002 to present as the most acute crisis of clericalism since just before the Black Death in medieval Europe. The truth sets us free.
Meanwhile, Church attendance continues to decrease across Christian denominations (save for some mega-prosperity-churches) as the young flee — in large part, complaining that Mass is too stiff and tedious and pointing up the absolutely urgent need for the bishops to shorten homilies and make them more personally relevant to congregants.
So critical is the issue of dry sermons that the Church of England is mulling over the invitation of evangelicals to preach from pulpits.
Catholicism might consider doing something similar: replacing stanchless homilies with ones written by talented wordsmiths, including charismatic laity.
In fact, dioceses should weigh providing brief but inspirational homilies to their priests instead of allowing each one to go whatever way and to whatever length they feel like.
Meanwhile, the U.S. Church is becoming an increasingly foreign one — with many priests (and very fine ones) from nations such as Nigeria, Poland, India and the Philippines. These priests are generally more devout than those trained in many modern Western seminaries, seem to be more heterosexual, and should be encouraged while they are also trained in clear linguistic presentation (often, accents provide a challenge for those in the pews).
One could argue that it has been foreign — in other ways — since the 1960s.
Every church should have Adoration to whatever extent is possible.
Every church should encourage the Rosary.
Every church should make Confession convenient.
Every church should re-institute the Prayer to the Archangel Michael.
Every diocese should have a training program for exorcists (and a deliverance training one for deacons and laity).
The Pope should consider reinstituting the recitation thrice (not just once) of "Lord I am not worthy…"
With all due respect, it is time for the United States Conference of Catholic Bishops to address these core issues, as opposed to the current focus, often so superficial, on bureaucracy and political issues at their bi-annual meetings. Let's get to the crux of the issue — and crises.
Catholicism will recover if bishops and priests, most of whom are such good, astute men, restudy what Christ said was the marker of His disciples (prayer, laying on hands, exorcism) and place far less emphasis on the Institution. We worship Jesus.
We need good holy priests, prayerful clerics, not scholars, nor dignitaries, not administrators. Amazingly — considering the current trends in seminaries — there already are a good number of these, many young; we know many excellent priests. How heroic — considering the times — they are.
They should be nurtured — not considered poor fits due to their piety.
Fortunately, Christ will prevail.
But before He does, we must move in the direction of piety over intellectuality, the Bible instead of so much steeped theology, mysticism over canonical legalism — or the direction we move in will remain on a frightening and perhaps precipitous curve downward.
–MHB