It's a fascinating story. At times, it is mesmerizing.
At others, difficult to believe.
It is a story about an athlete, a baseball player. But it is also deeply spiritual.
It's Yogi Berra — as legendary baseball manager Casey Stengel described him,  "a very strange fellow of very remarkable abilities."
And first, his almost fantastical record:
He won ten World Series rings as a player, and three as a coach.
No player in any sport has that stat.
He made the baseball all-star team fifteen times.
Three times he was named the league's most valuable player.
He also caught three no-hitters — at the time, a new record. (Catchers tell the pitcher what to throw and thus get much credit).
He played in seventy-five World Series games — more than anyone else.
Joe DiMaggio, Mickey Mantle, Babe Ruth?
Yankee Stadium was also "the house Yogi built" (he became the team's heart, soul, and persona).
He was the catcher for the first perfect game ever pitched in a World Series.
As a manager, he won one American League pennant and another in the National League — unheard of.
He hit 358 home runs.
He went a record 148 consecutive games without an error.
This would be all sports talk but for the fact that no athlete in American history has presented a better example of Catholic spirituality.
His kindness was as legendary as his skills at baseball; his humbleness was on constant display.
He forgave folks who made fun of his looks — the squat body, the rounded shoulders, the jug ears.
He spoke volumes of wisdom in simple (often comical, frequently paradoxically ingenious) malapropisms and quips.
"The future ain't what it used to be."
"It's not the heat, it's the humility."
"It ain't until it's over."
 "It's deja vu all over again."
Some thought of him as an idiot. Others described him as a genius. Yoda?
He didn't mind that people described him — in newspapers, on television — as funny-looking, even ugly. A cartoon series was inspired by him ("Yogi Bear").
They made fun of him in comic books.
They insulted him in newspapers.
He shrugged it all off, with remarkable humility.
This was a man — born to poor Italian immigrants in St. Louis, trained hitting baseball caps because they didn't have a ball — who ended up dominating headlines in New York.
It is a man who, though he was given a big-league contract with the fabled New York Yankees, chose first to volunteer for World War Two, dodging shells and bullets on a rocket ship during D-Day (and afterward pulling bloated corpses out of the water).
Wounded, he turned down a Purple Heart because he didn't want to worry his mother.
He and his wife Carmen were married for sixty-five years.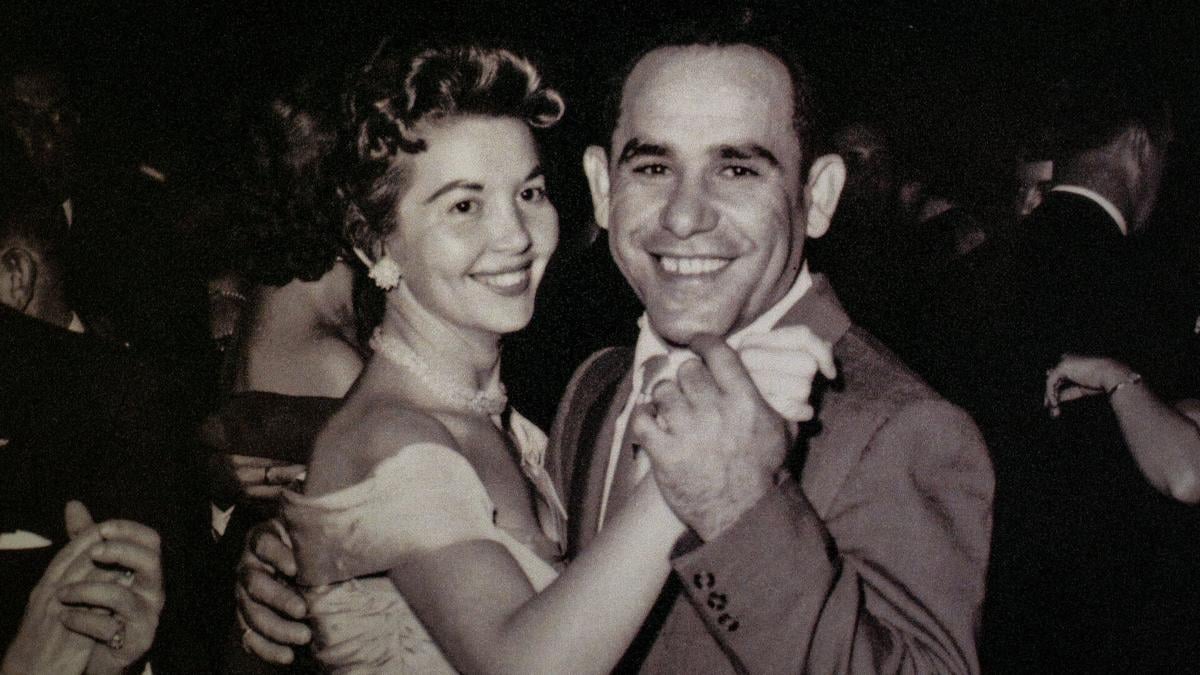 He fathered five children and had eleven adoring grandchildren — one of whom felt so strongly that the world didn't appreciate the extent of his brilliance that she narrated a documentary about him (available on Netflix, Apple TV, Amazon Prime Video, and Vudu) we couldn't stop watching (even though we don't follow baseball, not even the World Series).
Fascinating was how "good luck" seemed to follow him. Berra was the backbone of the Yankees, the name player or manager, for decades. When he was unceremoniously, humiliatingly, and unfairly fired as manager (by George Steinbrenner, who later apologized), the Yankees stopped winning World Series championships.
World Series championships followed him.
He went to the lowly Mets, first as a coach, then as manager.
The Mets were the laughingstock, perennial bottom-dwellers in the rankings.
While Yogi was a coach they became famous as the "Amazing Mets" (winning the World Series in 1969 — called by some the "greatest Cinderella story.)."
When a son became a cocaine addict, Yogi showed his equal prowess as a father, giving his son an ultimatum ("I won't be your father anymore, your mother won't be your mother, your brothers and sisters won't be your brothers and sisters if you continue this") and instantly causing that son — who had also played in the major leagues — to immediately stop his drug use ("I felt like I was struck by a thunderbolt from Heaven," is how he described it).
And that it all but certainly was.
We knew there had to be more to this story — this incredible account of goodness, loyalty, grace — than just a cuddly, comical fellow.
When we searched for "Yogi Berra and religion," the first result said it all, starting out by describing him as a "lifelong devout Catholic" who converted his wife into the faith and cajoled others to attend Mass with him."
Former Yankee manager Joe Girardi, when he took over as skipper for Joe Torre, was nervous approaching Berra because of Berra's close relationship with Torre. But Berra, who was on the coaching staff, made Girardi feel at ease, asking only for one favor. "Do you mind if I leave early some games so I can get to Mass on time?" Berra asked.
"My upbringing had taught me to believe in brotherhood, redemption and forgiveness. I believe God wants us to forgive, as he forgives us. But this thing with George [Steibrenner] was really eating at me."
And when he (reportedly) met Saint John Paul II?
Reporter: "I understand you had an audience with the Pope."
Yogi: "No, but I saw him."
Reporter: "Did you get to talk to him?"
Yogi: "I sure did. We had a nice little chat."
Reporter: "What did he say?"
Yogi: "You know, he must read the papers a lot, because he said, 'Hello, Yogi.'"
Reporter: "And what did you say?"
Yogi: "I said, 'Hello, Pope.'"
Yogi died sixty-nine years to the day after entering the big leagues. New York Cardinal Timothy M. Dolan offered a private funeral Mass for Berra at the Church of the Immaculate Conception in Montclair, New Jersey September 29, 2015.
Rest in Peace, Yogi, one writer wrote. "We'll meet you at the fork in the road."