---
About the horrible fire at Notre Dame Cathedral — collapsing much of its roof, but sparing the main structure (praise God) — there are observations to be made.
Whether an accident linked perhaps to renovation or terrorism, the devil was busy, using what was available to him, including fire, with which he is familiar.
It is Holy Week. Along with Ash Wednesday, this is when spiritual warfare is most intense.
There is the observation on religion, or lack thereof. 
The French, whose nation — once among the very most Catholic, home to Lourdes, the Miraculous Medal, LaSalette, Chartres, as well as Notre Dame — have fallen away from the Faith as much or more than any Western nation. While fifty-three percent call themselves Catholics, only five to seven percent of them regularly attend Mass. They have left their religion and so now religion is nearly leaving them (burning itself out).
Notre Dame is probably the most famous Catholic church except for St. Peter's Basilica and two in Jerusalem, so there are signs too — yet to be deciphered — about the Church as a whole [see current "Special Report: The Church and Prophecy"].
The Church is under attack from all sides; from within and without.
If not fire and controversies — if not doctrinal issues, or to do with abuse — there is vandalism: just this past week, a church in San Antonio and three in Boston were hit. Before that, a statue of the Virgin was beheaded in Chino, California. Other denominations are also being struck, including with satanic graffiti. Signs of these times.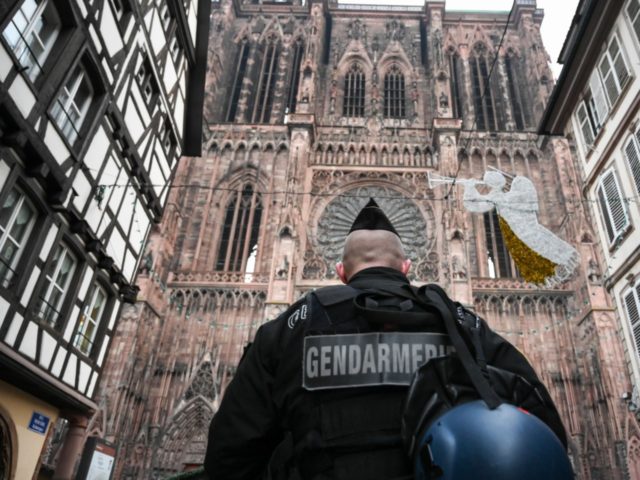 In France itself were twelve cases of church vandalism in March.
"The recent spate of church profanations has puzzled both police and ecclesiastical leaders, who have mostly remained silent as the violations have spread up and down France," said a news site.
"In Nimes (department of the Gard), near the border with Spain, the church of Notre-Dame des Enfants was desecrated in a particularly odious way, with vandals painting a cross with human excrement, looting the main altar and the tabernacle, and stealing the consecrated hosts, which were discovered later among piles of garbage."
Let us take note of this — and also that marauders set fire to the church of Saint-Sulpice — one of Paris' largest and most important churches — shortly after the twelve-o'clock Sunday Mass, also just last month.
As stated, the devil knows much about fire. (Is his shameful face, as during 9/11, somewhere in the smoke/flames?)
Likewise, the church of Notre-Dame in Dijon, in the east of the country, suffered the sacking of the high altar and the hosts were also taken from the tabernacle, scattered on the ground, and trampled.
And that all occurs at the same time that a new survey found that those declaring themselves "none" (when asked their religious affiliation) equaled (at twenty-three percent) evangelicals and Catholics.
In the U.S., a university dropped its Jesuit affiliation.
In Buffalo, dozens of more priests were identified as past abusers.
In Nebraska, a man was fatally shot inside a church during Palm Sunday Mass — causing the priest to duck behind the altar.
In New Jersey, a "Catholic" governor signed a bill to permit suicide (after "prayer"). Our fissiparous times.
And so on and so it is.  The good news is that the Church as a whole will survive everything and anything. Christ said it. But if Notre Dame is susceptible, so is St. Pat's; so is Westminster Abbey; so is the Church of the Holy Sepulchre. So is anywhere, if the Faith is not practiced and thus protective.
[resources: "Special Report: The Church and Prophecy and Michael Brown retreat, Chicago; soon to be announced: New Mexico]
[Footnote from an alleged secret of LaSalette:
"For a time, God will cease to remember France and Italy because the Gospel of Jesus Christ has been forgotten. The wicked will make use of all their evil ways. Men will kill each other; massacre each other even in their homes. At the first blow of His thundering sword, the mountains and all Nature will tremble in terror, for the disorders and crimes of men have pierced the vault of the heavens.  Paris will burn and Marseilles will be engulfed. Several cities will be shaken down and swallowed up by earthquakes. People will believe that all is lost. Nothing will be seen but murder, nothing will be heard but the clash of arms and blasphemy."
Footnote from summary of prophecies of Marie-Julie-Jahenny:
"France will be the starting point for the world-wide chastisements, as France was Catholic before other nations and was granted more graces than other countries. It (France) has been given the mission to defend the Church and the True Faith through times of persecution and heresy. Because of its failures and its rejection of its heaven-blessed monarchy, it would be struck first, but then the punishments would spread throughout the world."]