---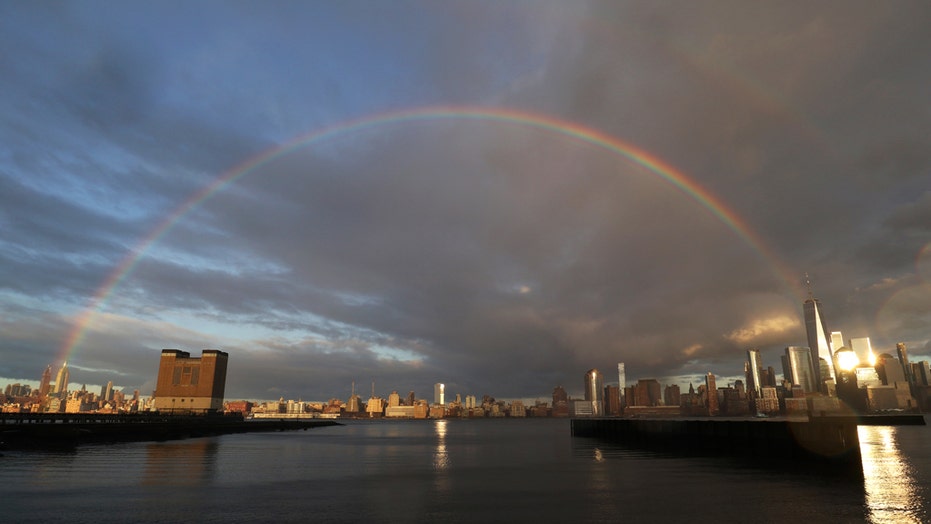 It isn't over. No. Of course not. It could be with us for months, maybe even years: that insidious, invidious virtually diabolic pathogen imprinted pyrotechnically into our collective consciousness (and nightmares) as "coronavirus," causing what they have called COVID-19.
But was there a sign the worst, in that epicenter called New York, is over?
On Monday — the day after Easter, and following a pounding, wind-driven tempest — a rainbow is photographed in Greenwich Village (left, by our son, Joseph, at top, by Fox News) in Manhattan.
It was a rainbow that Noah witnessed, of course, after floodwaters receded — a chastisement was over. "And God said, 'This is the sign of the covenant I am making between me and you and every living creature with you, a covenant for all generations to come: I have set my rainbow in the clouds, and it will be the sign of the covenant between me and the earth" (Genesis 9:13-13).
Is this a portent that the particular trial of coronavirus recedes now also — at least in New York, where officials have likewise announced that it appears to have gone over its peak? Or was it just a break in the clouds — with darker one coming?
As long as there is a chance for infection, as long as it is not eradicated, as long as a person can still contract it, the crisis, at one level or another, will be with us into the foreseeable future, for this virus has a different quality than flu viruses and other contagions such as those caused by ebola and SARS and MERS, or for that matter bubonic: This one seems to fly at lightning speed under the radar. At times, warp speed. It will sprout here and there now across the U.S. Don't put your guard down.
And it causes effects that have confounded researchers, government agencies, and the nurses and doctors who have seen it first hand. Therefore, it is unpredictable. If it lingers, it will continue to cripple economies worldwide — break down our artifice. Already it is stunning for its global reach. It has caused remarkable spectacles — from face masks in the supermarket to a mass grave on Hart Island in New York. 
And that it raged during Lent, and began to lift with Easter, has to jar even the honest atheist who realizes it.
To think that we can fight it with money is to think we can buy the Lord.
The International Monetary Fund, dubbing this situation "the Great Lockdown," said "this is a crisis like no other." Speaking at a press conference, Tuesday, its head explained "the magnitude and speed of collapse in activity that has followed (the lockdown) is unlike anything we've experienced in our lifetimes." A dip unlike any since the Great Depression, he said, with what may be a slow recovery (barring further events, that is).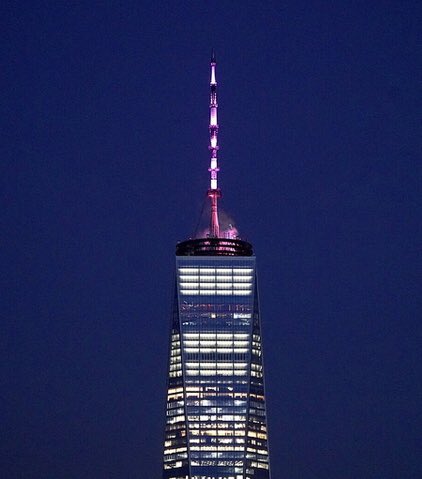 The ironies have been astounding — not just what it has closed and how swiftly — the seemingly invincible constructs of humankind such as Manhattan and Disney World and the Olympics and movies and restaurants and paper economics and plastic politics and transportation and sports and concerts (and — thanks be to God — the annual pagan ritual called the "Burning Man") — but also, with some of the photographs we have been left with. 
How about the way Governor Andrew Cuomo lit the Freedom Tower in pink to celebrate a horrid new abortion bill (allowing it right up to birth) just last year.
Now, during the pandemic, the Empire State Building was lit blood-red.
How about the idoneous photograph of a cruise ship stranded offshore because it harbors the coronavirus, a graveyard in the foreground?
Or Pope Francis celebrating Easter Mass in front of a couple dozen aides in St. Peter's?
Or your own parish, your own health club, your own theater, still uncertain when it will reopen?
Few could have imagined such a scenario, and by a virus that thus far has slain not nearly as many as some past pandemics.
Consider that the Black Death killed one of every four and possibly as many as one of every three in Europe during medieval times, and that the Spanish Flu of 1918-1920 slew 750,000 Americans (the toll of coronavirus in the United States thus far is approaching 25,000 and may reach fifty thousand — just 1/15th the 1918 pandemic).
But one can also compare this to other disasters in recent time — the 1,200 who died in Hurricane Katrina (2005), the 2,996 who succumbed on September 11 (2001), the three thousand people who died in the 1906 San Fran quake, the six to twelve thousand who passed away at Galveston (1900) — and when one does, one notes that this disaster is different; this is not only a higher death toll but one that has caused psychological effects that cannot be quantified and puts it a magnitude higher. It is branded into our brains: COVID-19. In that way, it will always be with us.  
Is there a synthetic quality to the microbe? Does it not seemed concocted? We'll have a special report on that possibility.
One New York doctor says the end-stage effects that have been called pneumonia whereby those dying in ICU units feel as if they are drowning and are placed on ventilators is not actually pneumonia but more like hypoxia — what you might call altitude sickness. He says the virus interferes with the hemoglobin components that carry oxygen in our cells, creating an effect similar to a person being dropped onto the peak of Mount Everest with no oxygen tank and no training or warning, left gasping for breath.
Many mysteries.
Did it simply come from a bat? That certainly can occur. We'll let scientists ferret that out, if ferret it out they can. If so, bats certainly are ironic, a symbol in horror movies of evil. We are all in the dark. But perhaps one can say this: a period whereby we have seen "Signs of the Times" — from Hurricane Andrew (1992) to Hurricane Katrina (2005), from the Northridge quake (1994) to the Asian one that caused a tsunami (2004), from melting ice caps to flyby asteroids, from extraordinary lightning in tornadic systems to northern lights, from the World Trade Center bombing in 1993 to the attacks on 9/11, from the recession of 2008 to the as-yet-unnamed economic debacle of 2020 — has transitioned into a Period of Formal Warnings.
How long this new period will last and how large the events it includes will be for the future to tell, to be followed by societal shifts and chastisements which will cleanse the earth and lead one day to the ultimate rainbow and the drawing back to God.    
Resource: Tower of Light
–MHB