---
Goodness, evil is rampant — at least public displays of it.
Every other day is a story across the internet or on television or in the tabloids (especially in the UK) with glaring, flaring photos of the sinister.
Some is intentional — shock effects for rock concerts or halftime shows. Some not so much so: Above is a video, uploaded onto YouTube in Brazil, showing the bizarre moment a man playing the immersive mobile game Pokemon Go has a psychotic breakdown and starts shrieking in a Rio bank that he has been "possessed" by one of the game's "monsters." That's the second case we have seen. ("Just a game"?) 
More disturbing is how many "exorcisms" we are seeing in internet video clips, including ones in which the victim is injured or even killed in the process — apparently when those "exorcising" the person themselves become possessed.
Recently, newsmen reported on a case whereby it appeared a spirit was cast out of one person, only to possess a neighbor. (One lesson: Leave exorcisms to priests wearing that stole.)  
In yet another instance, in England, the patron of a pub was supposedly overtaken by a "ghost" while using a restroom. It has all become mainstream news.
Is it mere sociology?
Here's from yesterday London Mirror: 
"Three teens who tried to summon an evil Mexican ghost had to be exorcised for more than five hours after they were were 'possessed by demons.' 
The girls were filmed screaming and convulsing on the floor of a church after taking the Ouija board-inspired Charlie Charlie challenge. In a clip of the exorcism one of the teens can be seen lurching forward and trying to grapple another youngster. She is quickly restrained by police and church workers who are clutching bibles in a desperate bid to revive the girls."
Just a game. 
Above, you see a poor fellow (not "poor," as a tennis superstar, by the standards of the world; but perhaps in other ways), posing with Rosary beads in his mouth and a bit of glazed anger (is he biting them?). Perhaps he means nothing by it — just a chic pose. Perhaps he's even Christian, and a better one than are we.
But whatever, it shows the blindness of our times: posing in such a way. Our times are at the least vagarious. And one asks: when "genius" and energy comes from darkness, is it really genius, or a genie?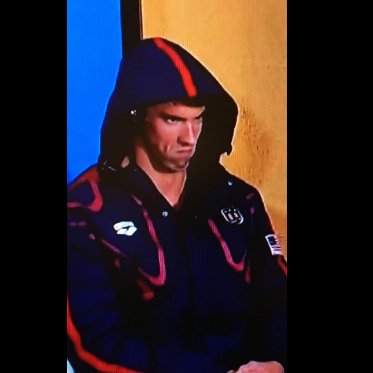 Speaking of athletes, during the Olympics — which always features pagan-style rites — a "viral' video showed another superstar, swimmer Michael Phelps, with a very strange, nefarious visage, before a mete.
Was it just his way of "psyching" out a competitor, or psyching himself up? Noted a swimming magazine: "While appearing as a special guest introducing the rapper, 'Future', Phelps told the audience that the artist's song "Stick Talk' was what was blaring through his ear phones in the ready room that day, which caused Phelps to channel his inner beast and beat out the field to take the 200-meter fly win."
There are many current victims of "this present darkness" (as one book put it) and inner beasts — which are now so blatant, so unabashed, so prevalent. (Can they not reside in or pass through us all?)
As for exhibiting blindness, so did the recent opening of Europe's longest tunnel in Switzerland.
To know that is to 
take a look at that ceremony, which featured "goatman" (right). We don't like running photos that exhibit evil — dislike granting it a soapbox — but it has become too pervasive not to illustrate, and in these instances, photos are worth those proverbial 1,000 words.
Say a St. Michael prayer with each of them. Pray for everyone. (We know what — or who — a goat often symbolizes.)
And what about those sinister "clowns": folks around various parts of the country, at least from South Carolina to Ohio, who dress in frightening costumes and make-up and terrorize unsuspecting passersby — in the case of Ohio (Columbus area), with a gun? If just a prank, a sinister one. [Photo from WorldNetDaily story on clowns.] 
Do you have Holy Water nearby?
Most chilling (prayer needs, these) was the news that (says the Washington Post), "A 49-year-old Oklahoma woman was charged with first-degree murder Monday [August 29] in the killing of her 33-year-old daughter in a horrifying manner: by beating the young woman before forcing down her throat a Crucifix and a religious medallion, a crime to which police say she confessed."
Here is another item, from WSOCTV: "John Coddington showed no emotion as he apologized to the family of the woman he beat to death, then… burned her body.
He also didn't show any emotion when he was sentenced to the maximum of 45 years in prison without parole for the crime. Prosecutors told the court that Coddington got a tattoo of a demon on his hand, telling police he'd done it because 'a demon came out of me.'" So many tattoos these days, and a bunch of them depicting skulls or occult symbols.
Many private revelations have long warned about a ratcheting up of evil, and are now proven to have been right.
The acute displays seem like a precipitate or microcosm of societal evil in general (left, rapper L'il Wayne, from Christian site called "Beginning and End"; graphic; apologies).
How do devils come? Why do they attack? 
It brings to mind Marino Restrepo, an anointed Catholic speaker and author who once said: "If a saint occupies the place of a fallen angel, then that explains their ferocious battle not to be replaced.
The celestial army, by Divine design and through the action of the messenger angels, is in charge of fighting the ongoing battles being waged shoulder to shoulder with the saints here on earth in order to help them achieve celestial glory.
"The spaces left empty by the fallen angels will be filled by the saints to complete the salvific plan of restoring paradise," Restrepo writes. "St. Paul states in the First Letter to the Corinthians (6:3): 'The saints will judge the angels.'"
It is one of many potent observations in a book, From Darkness into the Light, that details Restrepo's conversion after he was imprisoned in a cave for fifteen days.
Bound and hooded, the Colombian, who had worked in Hollywood merchandising and had lived a life in the fast lane prior to his abduction by former drug lords, suffered bites from insects and bats before he was released months after his conversion in the cave.
That occurred, he says, when the Lord came to him in an incredible Voice and showed him his entire life in a series of lucid visions.
While he says it would take "volumes" to describe all he was told, Restrepo has detailed much of it in his book — with his insights on evil coming to us at a time of the year when we are especially attuned to the battles raging in spirit around us.
It is at the least a view worthy of consideration at this moment in history which the Colombian says he was told by the Lord is worse than the days of Sodom.
"Their purpose," Father Gary Thomas, mandated exorcist for the Diocese of San Jose, California, once stated, "is to take as many of God's children to eternal damnation with them. There's a parasitic quality to their existence because they are all slowly dying—they've been dying since the moment they rebelled against God, and so they often times are attaching themselves to artificially experience life, but their ultimate goal is to take many of us into eternal damnation. Because of their jealousy and envy about the human race, they see us as competition, even though they're of a higher nature.
"You look at the book of Genesis—Satan is never described as Satan when he manifests himself as the serpent. It's implied and understood as evil presenting itself in this serpentine way, but the whole point of Lucifer doing that was, again, to wreck God's relationship with the human race because they were created in the image and likeness of God, even though we're lower than the angels. There was jealousy on the part of Lucifer because of God's creation of us."
Good to know where evil is, without focusing too much on it. Good also to remember that we all have lumber or even that occasional glazed glare in our own eyes.
[resources: From Darkness into the Light and spiritual warfare books]
[Return to our main blog]
[Special reports monthly; subscribe here]

Michael Brown's books on Kindle or Nook