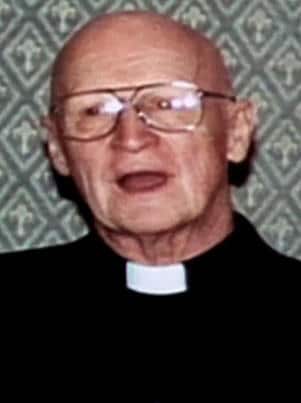 Few realize that the case of a man who may be the greatest serial killer in American history was cracked open due to the death — the killing — of a priest.
We speak here of Father Florian J. Gall, late pastor at Our Lady of Lourdes Church in Metuchen, New Jersey, murdered, by a psychotic nurse, in 2003, while hospitalized with pneumonia. His place of demise was the local hospital, Somerset Medical Center.
He was slain by Charles Cullen, at the time 46, whose stints at ten hospitals and at least one nursing home are the focus of a just-released, gripping Netflix documentary, "Capturing the Killer Nurse." There is also a current movie about him.
Officially, Cullen is suspected of murdering thirty to forty patients. But he is believed by many to have killed as many as 400 — which would make him the most prolific murderer on record. Cullen's weapon of choice: overdoses of medications such as insulin and digoxin, injected in intravenous tubes and feeding bags during a spree that may have spanned sixteen years.
Cullen worked in both New Jersey and western Pennsylvania. His story is as incredible as it is dastardly.
Moving from hospital to hospital — often under suspicion when patients who were not that ill, or who were on the road to recovery, suddenly "coded" — Cullen's is a story of see-no-evil-hear-no-evil on the part of some fellow nurses and hospital administrators, free to kill until a pharmacist raised suspicions with police and — exhuming the priest's body — detectives proved that Father Gall had been injected with three times the lethal dose of digoxin, a potent heart medication.
Father Gall was seriously ill — on a ventilator — but was showing signs of recovery, as he had at various other times in his life, which was draped in deep Catholic devotion: a prayerful, shy man who'd entered the seminary at age seventeen and became a highly respected priest.
Identified on his tombstone as "Very Reverend Gall" (he helped establish a new diocese and served as an episcopal vicar in Hunterdon County), Father Gall was raised near a church in Perth Amboy, a former altar boy who attended St. Mary's High School.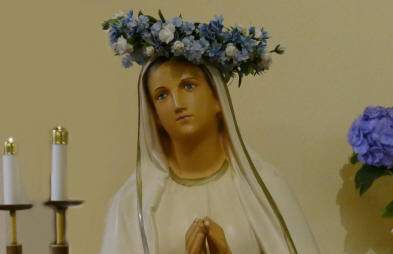 According to his sister, Lauren, a Eucharistic Minister at Most Holy Name of Jesus in Perth Amboy, "He was a very quiet person, and sometimes it was hard for him to be outgoing. Priests usually called him with liturgical questions. Many many priests called him. He was a man of few words but he was available if they wanted to talk to him."
His passion, Lauren told Spirit Daily, was the Liturgy and the choir. "Church always came first," said his sister, who recalled how he even spent Christmas Eves at his church, cleaning pews if they needed it and making sure flowers were perfectly in place. She accompanied Gall — eight years her senior — on trips to Europe, including Ireland, where they stopped at Knock Shrine. He had a devotion to the Blessed Mother. (Living near a parish, and obviously inspired by it, Father Gall was one of four boys on the block and seven others in the immediate vicinity who entered the seminary.)
At the time of his death, Father Gall had been in a medically-induced coma. "He had come through before, when he had meningitis," lamented the New Jersey woman. "He was able to conquer many illnesses — and bypass surgery — and everyone thought he would come out of this."
For reasons his own, Cullen decided otherwise.
"Some of the nurses thought he was very weird," remembered Lauren of her brother's killer. "He was a good clinician. That's why they liked and trusted him. I think he was a psycho. It wasn't like a mercy killing. It was like excitement. [He'd inject someone] and they called a code and he'd be able to come in and pump his chest."
One of his victims was a 21-year-old admitted for routine spleen surgery.
Did anyone have an intuition that something so dark was occurring, we wondered?
"One of his priest-friends was visiting and had said, 'that guy [Cullen] is really weird,'" recalled the sister, herself a former nurse. "He was always looking in my brother's room, although he only took care of my brother once. I questioned him about the medication he was giving. I wanted to know Tylenol or what. There were a lot of things that were coincident or something."
Tragically — appallingly — Cullen — who rarely was disciplined, despite suspicions and several incidents — was able to slip from one hospital to another when he came under scrutiny. At the time, hospitals weren't allowed to provide the background of employees when they applied elsewhere. They only confirmed whether or not a person had worked there. (Due to the Gall case, the law has since been changed.)
He was fired from Somerset — where he later confessed to having killed fourteen patients — and hired by another hospital that Halloween.
Enraging is how administrators ignored indications that there was a serial killer in their midst (afraid of lawsuits and failing to contact police, content to see him somewhere else, where his murderous press continued until a fellow nurse and friend, Amy Loughren, was able to get him to admit, on a hidden recorder, that he had killed the priest, one of his final victims).
According to Loughren, "On December 12, 2003, I met Charles in a sports bar while wearing a wire. After confronting him about the deaths, he changed. I only saw glimpses of the murderer he was twice. Once in that restaurant, he completely changed. It was not the same person; his body language, eye color, and demeanor were all different. His smugness and pride were so apparent. That it was not my friend Charlie anymore."
"He told detectives he was responsible for the death of F.G. (Gall). He purposely caused his death by improper administration of medication," reads an affidavit by detectives who drew a formal confession from him. "He also said that he improperly administered medication to [a woman identified only as "J.K.H."] with the purpose to cause her death. According to defendant, his motive in those cases was to alleviate pain and suffering."
That didn't seem to apply, however, to patients who were even further along the road to recovery than Father Gall — in some cases, hospitalized only briefly before their startling demise.
Reported CBS: "The question remains: How could Cullen have worked at ten different hospitals in New Jersey and Pennsylvania, over a period of sixteen years — despite the fact that at seven of those hospitals, he was under investigation, fired or forced to resign?"
At Cullen's first job in 1987, at St. Barnabas Medical Center in New Jersey, where he killed 16, he was reprimanded for contaminating an IV bag with insulin.
At Morristown Hospital, he was fired, the network pointed out. At Warren Hospital, he was investigated for a suspicious patient death. "At Liberty Nursing Center, he was fired for giving a patient medication without a doctor's order. And at St. Luke's Hospital, he was suspended for stockpiling lethal medications. Apparently, none of this was reported to subsequent employers, as Cullen moved from hospital to hospital — all within a 40-mile radius."
As for the priest, his sister says it was like he had intervened from beyond the grave to bring Cullen to justice (and halt the killing). Is she bitter at hospitals? To a degree. But, she recalls, her brother would simply have placed it all in God's Hands and said, "It's His Will."
"I have several friends who pray to my brother for miracles," she told Spirit Daily. "One even wrote a prayer."
— MHB
[resources: Michael Brown retreat video]
+