From Fox News:
The Vatican reported a new twist Saturday in the mysterious, decades-old disappearance of a teenage girl.
Two sets of bones were found near the tombs of two 19th-century German princesses, raising hopes that they could be the remains of 15-year-old Emanuela Orlandi, the daughter of a Vatican employee, a Vatican official said. The tombs were opened earlier this week and found to be empty. The bones were discovered as staffers were inspecting other spots the princesses may have been moved to in the cemetery of the Pontifical Teutonic College, Vatican spokesman Alessandro Gisotti said.
From Vatican News:
A brief statement issued by the interim director of the Holy See Press Office, Alessandro Gisotti, on Saturday shone light on the continuation of operations in the Vatican's Teutonic Cemetery.
Gisotti said the preliminary investigations that took place on July 11 in the cemetery inside Vatican City were both of a documentary and a logistical nature. It emerged, he said, that between the 1960s and '70s of the last century work was carried out to expand the college itself and that work, during this period, involved the entire cemetery area and the building of the Teutonic College.
[ For Full Story ]
[Return to www.spiritdaily.com]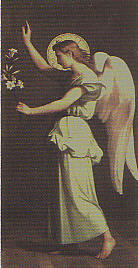 Pray always for purity and love
+++
Please report any inappropriate ads or content