---
Let's go to the mailbag.+
There is the "Tear of Joy" ministry, based on an image of the Blessed Mother, one that reportedly brings comfort and perhaps even healing.
Also, occasionally, someone feels inspired with words from it. This message, from June 21, 2020, has been approved to be posted by the spiritual director of Our Lady of the Tear of Joy.
Message: "Abundant Graces flow my children. My precious little ones, as you see the sun going down for the day, you know the warmth and brightness of the sun will no longer be with you. Unlike the sun, my precious little ones, even at night abundant graces flow down upon you when you call upon me, and with these graces, I will bring warmth and brightness to your hearts. Call upon me and allow me to bring the warmth and brightness of my motherly love that I have for you, to your hearts. I love you my precious little ones and bless you in My Son's name."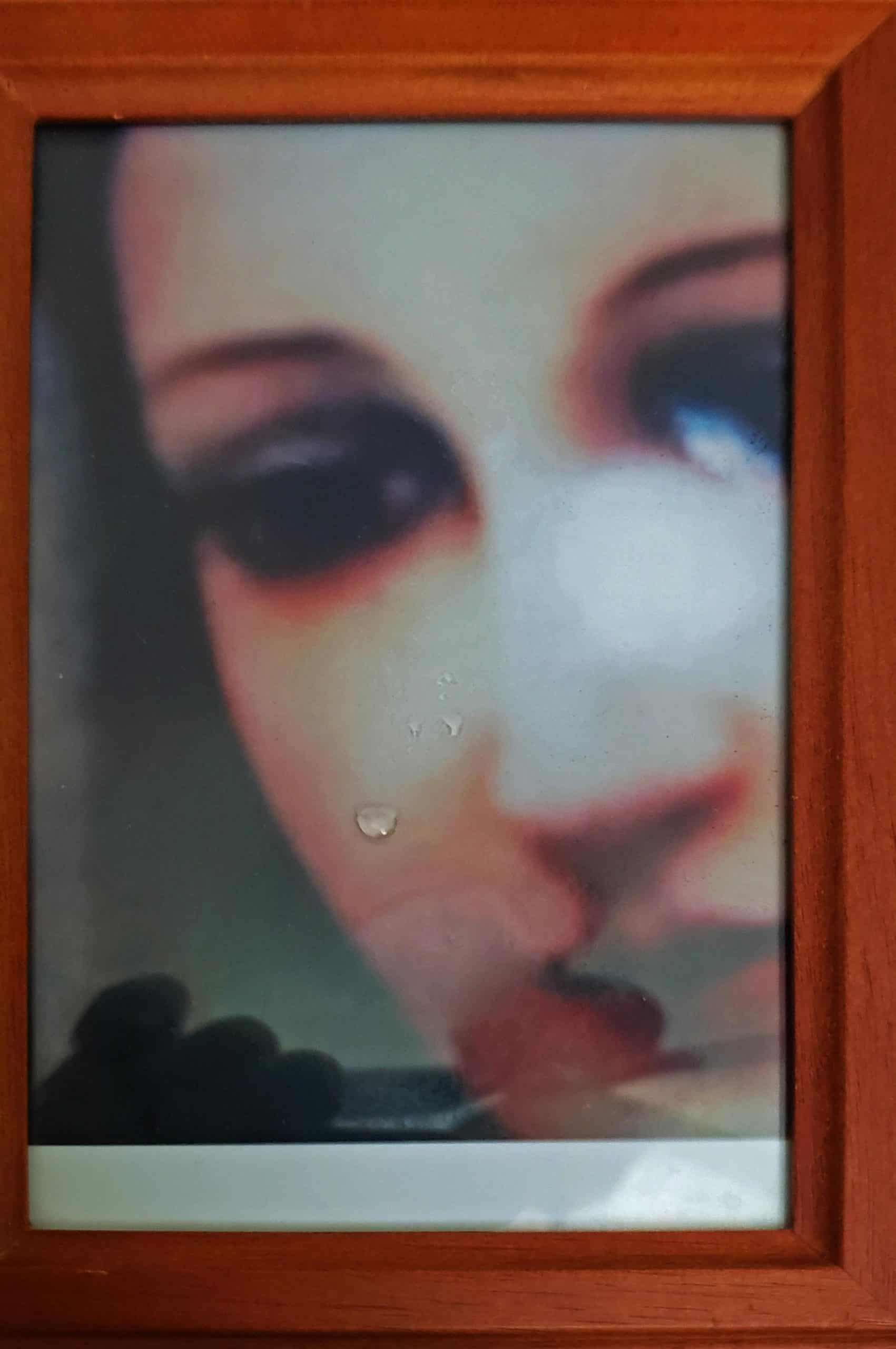 As we explained a few months back, a viewer named Arrow Osborne sent us a photo of Our Lady, explaining, for our discernment, that Mary somehow materialized on an "instamatic" photo. It occurred near Cincinnati last September 8, as someone was taking pictures of balloons released at the home of a woman celebrating Mary's official birthday, in connection with a visit from the mystic, Carmelo Cortez, of the Philippines (known for rose petals on which holy images seem to materialize).
Certainly a welcome message, at any rate.+
We'll keep the next one anonymous for obvious reasons:
"I just read your article about tech and the three a.m. witching hour. My brother is a priest and when he was in the seminary in Pennsylvania he was awoken around three a.m. by a strange sense someone was in the room. He saw at the foot of his bed a large black-shadow thing, bigger than a man but shaped like one. He said it seemed about seven-feet tall. He wiped his eyes, blinked, and sat up in bed hoping he was imagining it, but it was still there. He said he stared at it for a solid minute. Said it was a solid black mass and he felt profound sense of evil radiating from it. He lay back in bed under his blanket and said a decade of the Rosary and when he sat back up it was gone. My brother is a dynamic priest who has brought many lost souls to God during his years and I believe Satan was trying to intimidate or scare him from his calling. My brother says he wishes he could show everyone what he saw at the foot of his bed because everyone would believe in the existence of evil."
"Hi everyone," writes another. "I received news of three statues of Our Blessed Mother shedding tears in the Philippines at the beginning of August, 2020. First was Mary Mediatrix of all Grace, on August 3. [For cautious discernment; see "tweets" below.]
"As well, two other images in a private outdoor chapel in Bacolod began shedding tears. One started at 2 p.m. on August 6 (feast of the Transfiguration and also the first atomic bomb that went off in Japan in World War II).  It is a statue of Our Lady of Fatima. The second image is a painting of Our Lady which began the next day, on August 7. Let us pray and console Our Lady and intercede for the Philippines and for our world!"

Again, use discernment. Because a statue exudes water, blood, or oil does not make it holy, but paranormal. It is through fasting and prayer that we differentiate as to source.
(Note that the Catholic Bishops of the Philippines are calling for a massive, nationwide prayer campaign for the healing of the country and the end to the Covid-19 pandemic. The Pope has also asked Mary to intercede.)
On another matter: "What a wonderful article!" writes Mary Mills of a post from our archives. "This article brought so much peace. I'm so glad you brought it back. God inspired me to write a prayer with your words:
"Lately, I have been living in the past and dwelling on past injuries. I have bitterness in my heart and I seem to concentrate on the negative. I am deeply wounded, but I hear you calling me, Lord,  to transcend my bitterness and anger and give it to you. Jesus, envelope me in your great love and send your light. I can feel this darkness vanish and my bitterness leaving. I hope and trust in you, Lord, and I make the decision to let you heal my wounds. I thank you for your great love for me. With your precious love, my painful thoughts disappear. Thank you, Lord. Amen."
"My name is Joseph Fazio, East Northport, New York," is another note. " I have created the Rainbow Rosary and have been making and repairing rosaries for many years.  However, recently I have been repairing the same Rosary seven to ten times. sometimes on one day and then the very next day again! At the same time links between the beads which are closed tight with no way to part except to go through each other! I repaired the Rosary and gave it to the lady yesterday but this morning she gave it back to be repaired again in the same location, between the second and third beads of the second decade. The links were tight and closed as I had repaired them! Have you ever heard of such an occurrence? It's happened to me when praying the Chaplet of Divine Mercy. Please advise."
Joseph, we have seen that a few times at sites of apparition, or with rosaries from such sites.
"Did you ever think having Siri on, during Confession might be recording your confession?" asks Marge Baker.
"Dear Spirit Daily," writes Carl Mullens. "First off, I am a huge fan of your website. I scroll through it every morning with a cuppa and a grin on my face. I have taken what was written about Satan and the news to heart- I limit myself only to your website and two other reputable ones for my news.
"As I am sure you know, libertarians have another name for June: 'Pride Month'. As I read through your site more and more, I really do believe that 'Pride Month' is a true test of faith given by God. I would like to share my story and have it be published so as to spread awareness and show my support to other readers in faith.
"Every 'Pride Month', liberals bombard us with rainbows and gay activity. They claim to be against cultural appropriation, but then take the rainbow given by God to Noah and use it to further their agenda. Each June, I shiver as the gay agenda shows up on my television- or worse, in my city of Cape Coral, Florida. I think that in reality, 'Pride Month' is harmful to Christians everywhere. It poisons our minds and attempts to lull us into mindsets that are inherently evil. (Did you know that some people believe Lucifer to be homosexual? It makes sense, given the type of evil he harbors).
"During 'Pride Month' I find that gay men are becoming much too bold, taking their shirts off and showing the world things that should only be shown to their future wives. Worse, I find myself staring at these men's chests, when the only man I should be staring at is Jesus Christ. It is as if both gays and the media wish to take our focus away from the Lord, one 'Pride Month' at a time.
"The only thing people should be proud of is worshiping God and acting as He would want us to act. 1 Kings 14:24. 'And there were also male cult prostitutes in the land. They did according to all the abominations of the nations that the Lord drove out before the people of Israel.'
"Indeed, He does not approve of 'Pride Month'. Oh, and He wants his rainbows back."
God Bless,
Carl Mullens